Northwest Birding Trail
Northwest Birding Trail
The trail starts at the west of the area, in Borðeyri, and travels east
through the Northwest, guiding bird lovers through areas rich in
birdlife and nature. Though the trail starts at one point and ends at
another, travellers can join and leave the trail whereever they want.
It has also been set up so that travellers can skip the most remote
areas and still keep on the trail, ideal for those with little time but
still wanting to see rich birdlife.
What to Expect in Iceland?
360 bird species have been recorded in Iceland and about 85 species
nest here. The geographical location of Iceland, far north in the
Atlantic, allows bird enthusiasts to see birds from both sides of the
Atlantic. These include birds common in northern regions of Europe
as well as American birds such as the Great Northern Diver, or
accidental visitors such as American Robins, Indigo Buntings, Grey
Plover and others. Some of the species nesting in Iceland appear in
very large numbers, such as the Whooper Swan, Greylag Goose,
Atlantic Puffin, Fulmars and other sea and cliff birds.
For further information on birds that have been spotted in Iceland,
we recommend The Icelandic Bird Guide.
The Best Time to Visit
For those who are keen to see as many bird species as possible in
Iceland, late May to June is the best time. By then the migrant
species have arrived and are preparing their nests. With 24 hours of
daylight, Iceland is teeming with bird activities which allows you to
bird watch whenever you desire.
As most of the birds in Iceland are migrants they typically leave the
island in August and September. The winter season lacks the same
abundance of species as summer but still provides the Gyr Falcon,
Merlin, White-tailed Eagle, Snowy Owl and Short-eyred Owl, Rock
Ptarmigan in shining white, Common Raven, Snow Bunting,
Redpoll, gulls, ducks and a few others.
For best time to see certain species, we recommend www.eBird.org,
go to Explore Data - Bar Chart - Iceland.
Birding in the Northwest
The Northwest region of Iceland offers extended wetlands with an
abundance of Whooper Swan, Great Northern Diver, ducks such as
Long-tailed Duck, waders, and geese. The area has accessible
wetlands that offer the ideal habitat for many species of marshland
birds and waders. Eider ducks in large colonies, Arctic Tern, Atlantic
Puffin, Kittiwake and many other species live close to the ocean.
Almost everywhere it should be easy to see and listen to birds such
as the Red-necked Phalarope, Golden Plover or Snipe.
Of all the bird species that visit Iceland, only a few can not be seen
in the Northwest during nesting or migration periods.This map
highlights birding locations and areas which are accessible for most
bird enthusiasts travelling on their own. For more remote places we
recommend tour operators operating both locally and across Iceland.

Protection of Wildlife
Almost all birds in Iceland are floor breeders. Therefore, we
recommend care be taken to avoid disturbing their nests and eggs
when hiking in nature.
Northwest Birding Trail map (Get PDF)
Northwest Species chart (Get PDF)
The rocky island Drangey in the middle of Skagafjordur is a flat topped mass of tuff, rising almost 200 meters out of the ocean. The cliffs serve as nesting sites for around million sea birds and have been used throughout Iceland´s history for egg collection and bird netting.
Grettis Saga recounts that both Grettir and his brother Illugi lived on Drangey, for three years and were slain there. The island can only be ascended at one spot.
Over the summer months, 20.May - 20.August, we offer daily trips to Drangey from Sauðárkrókur at 10:00 am.
There are no scheduled tours during the winter months, but tours can be arranged on request.
Hvítserkur is a 15 m-high sea stack just off shore on the eastern side of Vatnsnes. Good seal spotting place at the estuary of the Sigridarstadir lake, south from the stack.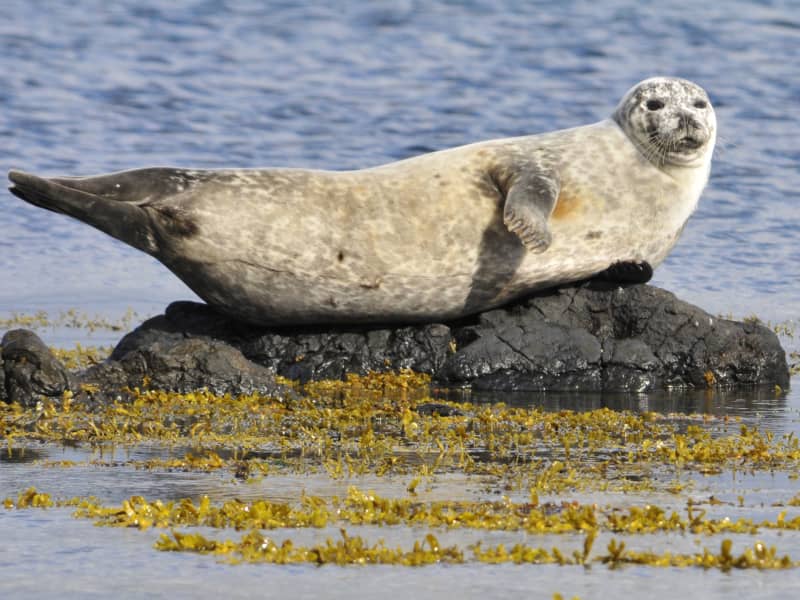 Vatnsnes is an area of varied animal life, and it is here that we find the largest and most accessible seal sanctuary in Iceland, where the common seal (Phoca vitulina) can be seen at quite close range. Facilities for seal watching can also be found at Illugastaðir, Svalbarð and Ósar, but please note that the Hindisvík station has now closed.
The area offers a beautiful environment endowed with many pearls of nature such as Hvítserkur and Borgarvirki, as well as some famous historical trails and sites.
The ring road round Vatnsnes is about 90 km and is mostly dirt road, passable all year round.