Guesthouse Hof
• Cat I - 4 double rooms with shared facilities
• Cat III - 6 double rooms with private facilities
• Sleeping bagaccomodation in double rooms
• Facilities for disabled
• Credit cards accepted (Visa/Euro/Mastercard)
• Non-smoking area either in all or part of the facilities of the farm
• A working farm with sheep and horses, where traditional farming is pursued at commercial level
• Bird watching
• Marked walking trails
• Hot Pot/Jacuzzi
• Farm animals shown to guests
• Meals are available if booked in advance.
• Cooking facilities
Accommodation in a separate building at the farm. 6 rooms with private facilities and 3 rooms with shared facilities, kitchen, big living room, hot pot and BBQ.

Convenient for small groups. Interesting sites and hiking possibilities in the area such as the great canyon of Vatnsdalur with many waterfalls. The Saga of Vatnsdæla took place in this area. Beautiful hickingtrails in the near surrounding.

Shopping/Swimming pool/Golf: Blönduós 32 km.

English, Dutch, German and Scandinavian spoken.
Get directions
Guesthouse Hof
Austur Húnavatnssýsla
GPS Points
N65° 23' 0.503" W20° 13' 33.942"
Service
Travel directory for Guesthouse Hof
The official travel index of Iceland
Others
Horses and Tours
Bed & Breakfast
Hvammur 2
541 Blönduós
452-7174, 782-1797
History and Culture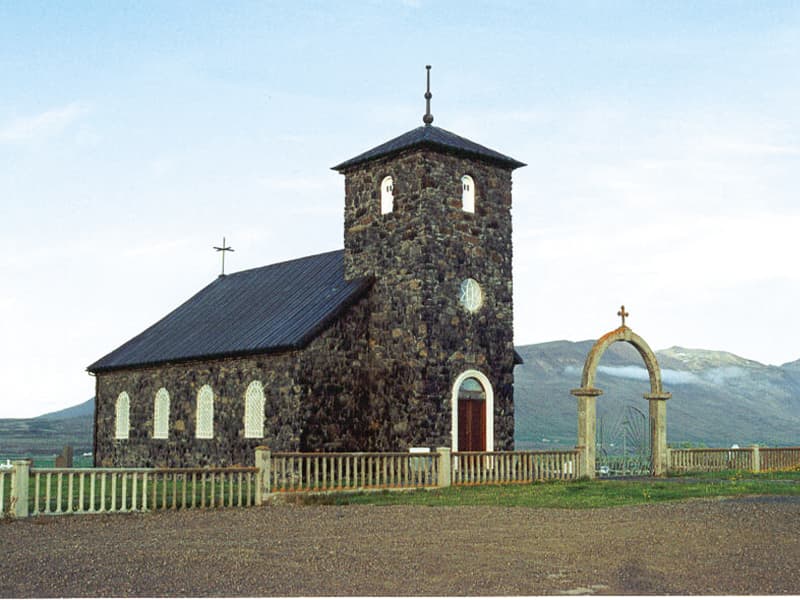 24.31 km
Þingeyrar was, in past times, one of the most famous estates in Húnaþing and also the site of a church. Now, the Þingeyrakirkja church commands one of the widest and most beautiful panoramic views in the county. It is said that no estate was as big as or endowed with such elegant buildings as Þingeyrar, which is probably not surprising as it was home to chieftains and the elite for many centuries. Þingeyrakirkja church was built of stone and consecrated in 1877. Þingeyrar was also the site of the Iceland's first monastery, founded in 1133.
Nature
18.44 km
Vatnsdalshólar are a cluster of hills of all sizes across the mouth of Vatnsdalur valley. Thought to have been formed by a catastrophic landslide. These hills are considered to be one of the three "innumerables" things in Iceland along with the lakes in Arnarvatnsheidi and the islands on Breidarfjord in the west.
Others
Þingeyrar church
Museums
Þingeyrum
541 Blönduós
895-4473