Guesthouse Blönduból
Accomodation in three summerhouses. Camping site.
Ljón Norðursins café.
Get directions
Guesthouse Blönduból
Blöndubyggð 9
GPS Points
N65° 39' 34.550" W20° 17' 45.797"
Travel directory for Guesthouse Blönduból
The official travel index of Iceland
Swimming Pools
1.23 km
Fully equipped sports center with a gym, swimming pool, two hot tubs, steam bath, wading pool, ice-bath and to large water slides along with lots of fun toys. Information about opening hours and entra
Swimming Pools
24.32 km
Camping
1.32 km
Open all year round. Accommodation in 20 well equipped cottages for altogether 110 people. Hotpots and sauna in most of the cottages. Close to all services. Gladheimar also run the camping area in Blo
Others
Ós Golf Club
Golf Courses
Vatnahverfi
540 Blönduós
452-4980
Geitaskarð
Farm Holidays
Langidalur
541 Blönduós
452-4341, 895-6224, 897-4341
Hunavellir Swimmingpool
Swimming Pools
Húnavellir
541 Blönduós
453-5600
Vötnin Angling Service
Day Tours
Aðalgata 8
540 Blönduós
862-0474
Nature
24.65 km
Spákonufellshöfði headland is popular among those interested in walking and other outdoor recreations, and is a short way from the harbour in Skagaströnd.
Marked footpaths have been laid out and signboards erected telling the visitor about the area's flora and fauna. On a bright, clear summer evening, one can witness the setting of the midnight sun as it dips to touch the horizon in the north. Indeed, the inhabitants of the area make use of the headland all year round and enjoy all that it has to offer.
Nature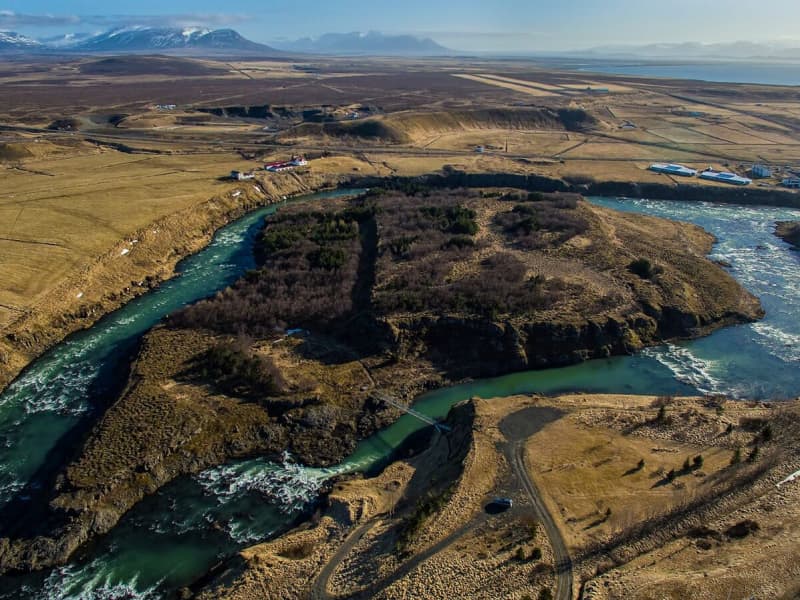 1.57 km
Hrútey Island is the real feather in the cap of Blönduós town, which is almost encircled by the river Blanda. Hrútey is blessed with a wide variety of vegetation and birdlife is abundant, being the habitat of geese and many other species. It is easily accessible and lies just off Highway 1.
There is a good parking area by the river bank and a trusty pedestrian bridge over to the island. Hrútey is an excellent place for outdoor exercise, or just to stop and take a break. There are good footpaths and a clearing with benches and picnic tables.
Nature
19.57 km
Vatnsdalshólar are a cluster of hills of all sizes across the mouth of Vatnsdalur valley. Thought to have been formed by a catastrophic landslide. These hills are considered to be one of the three "innumerables" things in Iceland along with the lakes in Arnarvatnsheidi and the islands on Breidarfjord in the west.
Others
Vatnsdæla on a tapestry
Exhibitions
Árbraut 31
540 Blönduós
898-4290
Austur-Húnavatnssýsla Archive
Libraries & Archives
Hnjúkabyggð 30
540 Blönduós
452-4526
The Blönduós Academic Center
Exhibitions
Árbraut 31
540 Blönduós
452-4030
Womens Collage Exhibition
Exhibitions
Árbraut 31
540 Blönduós
893-4341, 452-4310
Vötnin Angling Service
Day Tours
Aðalgata 8
540 Blönduós
862-0474
Guesthouses
0.39 km
Brimslóð Atelier Guesthouse and Restaurant is situated right beside the sea in the oldest part of the village of Blönduós, which is located on Highway 1,243 km (approximately 3 hours drive) north
Restaurants
1.21 km
B&S RESTAURANT A HEALTY CHOICE OPEN All year 11:00 21:00 1 okt to 30 apríl and 11:00 to 22:00 1 may to 30 sept. For all the travelers from all around the world who wish to enjoy traditi
Tourist Information Centres
1.35 km
The information center in Blonduos is one of four information centers in Northwest Iceland. All over Iceland there are tourist information centers and help desks guiding travelers in their Journey aro
Others
Teni - Ethiopian Restaurant
Restaurants
Húnabraut 2
540 Blönduós
6905379
Húnabúð ehf.
Restaurants
Norðurlandsvegi 4
540 Blönduós
551-0588
N1 - Service Station Blönduós
Gas station
Norðurlandsvegur 3
540 Blönduós
467-1010
Kaffi Bjarmanes
Restaurants
Bjarmanesi
545 Skagaströnd
867-6701
Hotel Blanda
Hotels
Aðalgata 6
540 Blönduós
452-4205, 898-1832