National Parks
Bárðarbunga, is a stratovolcano located under Vatnajökull, Iceland's most extensive glacier. The second highest mountain in Iceland, 2,009 metres (6,591 ft) above sea level, Bárðarbunga is also part of a volcanic system that is approximately 200 kilometres (120 mi) long and 25 kilometres (16 mi) wide.
Lake Mývatn is a veritable paradise for birdwatchers and there is a highly diverse birdlife to be found both on the waters of the lake itself and on its shores. Many waders and marsh dwellers make their home there, but Mývatn is probably best known for its unique duck species composition. During the summer months there are more species of duck gathered in and around its waters than anywhere else on the planet. Mývatn and its wetlands are protected as a nature reserve (The Mývatn-Laxá Nature Conservation Area). It is registered as one of the internationally important wetlands, along with the Laxá river which flows out of the lake.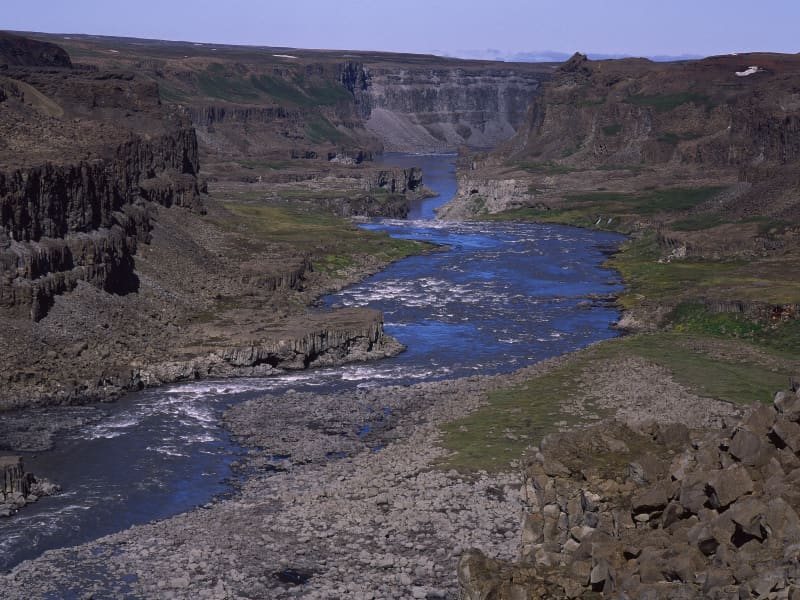 Vatnajökull National Park is vast in size and covers more than 13% of Iceland. Despite a large part of the national park being underneath the icecap of the glacier Vatnajökull its landscape is diverse, predominantly due to the interplay of volcanic activity and glaciers.
Jökulsárgljúfur is an area that takes its name from a canyon carved out by river Jökulsá á Fjöllum. Within this area is Ásbyrgi; surrounded by horseshoe-shaped cliffs and also the location of Ásbyrgi visitor centre and a large camp site. Also within Jökulsárgljúfur are waterfall Dettifoss and crater plugs Hljóðaklettar, both a must see for every visitor in the north.
Central volcano Askja and highland oasis Herðubreiðarlindir are further up in the highlands. To get there requires a 4x4 transport. They are best accessed by road 901 and then F905. Two small fords need to be crossed on this way. Alternative route is through road F88 but then two fords that need extreme caution need to be crossed.
More information about the National park is at the webpage: www.vatnajokullnationalpark.is