Árnes Museum
Árnes is the oldest house in Skagaströnd, and the only one of its kind in the area that was considered possible to preserve. It was renovated by the municipality and opened in 2009. Árnes is a unique example of living conditions in the first part of the 20th century, and is a typical timber dwelling from that period. The house is furnished with items from those bygone days, some from the Skagaströnd Folk Museum, others which have been borrowed and even articles which belonged to the previous owner of the house. Every day, during the summer months, visitors to Árnes can have their fortunes told from cards, tea leaves, coffee cups or have their palms read.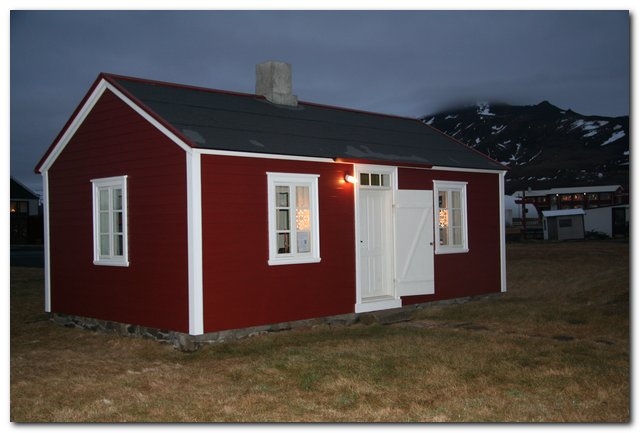 Get directions
Árnes Museum
Skagaströnd
GPS Points
N65° 49' 23.506" W20° 18' 27.929"
Travel directory for Árnes Museum
The official travel index of Iceland
Others
Skagaströnd Golf Club
Golf Courses
Höfði
545 Skagaströnd
892-5089
Ós Golf Club
Golf Courses
Vatnahverfi
540 Blönduós
452-4980
Others
Vatnsdæla on a tapestry
Exhibitions
Árbraut 31
540 Blönduós
898-4290
The Blönduós Academic Center
Exhibitions
Árbraut 31
540 Blönduós
452-4030
Austur-Húnavatnssýsla Archive
Libraries & Archives
Hnjúkabyggð 30
540 Blönduós
452-4526
Womens Collage Exhibition
Exhibitions
Árbraut 31
540 Blönduós
893-4341, 452-4310
Others
N1 - Service Station
Gas station
Norðurlandsvegur 3
540 Blönduós
467-1010
Teni - Ethiopian Restaurant
Restaurants
Húnabúð ehf.
Restaurants
Norðurlandsvegi 4
540 Blönduós
551-0588
Hotel Blanda
Hotels
Aðalgata 6
540 Blönduós
452-4205, 898-1832
Bjarmanes
Cafés
Höfði
545 Skagaströnd
452-2850