Salthús Guesthouse
Guesthouse, Salthús Gallery and Artist Residency in Skagaströnd.
The Salthús which was renovated into a guesthouse in 2017, got its name around 1950. It then housed a fishing plant, where cod was salted and dried for export - hence the Salthouse name. The Salthús is located on Spákonufellshöfði, a landmark cape in Skagaströnd, where you can view spectacular sunsets and Northern lights.
The Salthouse is a two story house, which houses up to 36 people. Each floor has seven spacious bedrooms, all with private bathrooms and a fully equipped communal kitchen. On the first floor there are 4 family rooms with ocean view and garden access, and 3 twin rooms with mountain view, whereof two have disability access. The upper floor has 7 double rooms with either sea view to the south or mountain to the north.
In the halls of the Salthús Guesthouse we run a gallery that exhibits contemporary art from Nes Artist Residency alumni and other international artists.
In Skagaströnd you can enjoy walking, hiking, golf or fishing in lakes or rivers. Sightseeing along the less travelled Arctic Coastal Way, you can find Kálfshamarsvík and its spectacular columnar basalt cliffs, seals and birdlife - a must see in this part of Iceland.
Get directions
Salthús Guesthouse
Einbúastígur 3
GPS Points
N65° 49' 33.989" W20° 19' 18.631"
Travel directory for Salthús Guesthouse
The official travel index of Iceland
Swimming Pools
0.13 km
Swimming Pools
23.84 km
Fully equipped sports center with a gym, swimming pool, two hot tubs, steam bath, wading pool, ice-bath and to large water slides along with lots of fun toys. Information about opening hours and entra
Camping
23.48 km
Open all year round. Accommodation in 20 well equipped cottages for altogether 110 people. Hotpots and sauna in most of the cottages. Close to all services. Gladheimar also run the camping area in Blo
Others
Ós Golf Club
Golf Courses
Vatnahverfi
540 Blönduós
452-4980
Skagaströnd Golf Club
Golf Courses
Höfði
545 Skagaströnd
892-5089
GN Hópbíilar
Day Tour Provider
Skúlabraut 43
540 Blönduós
864-9133
Nature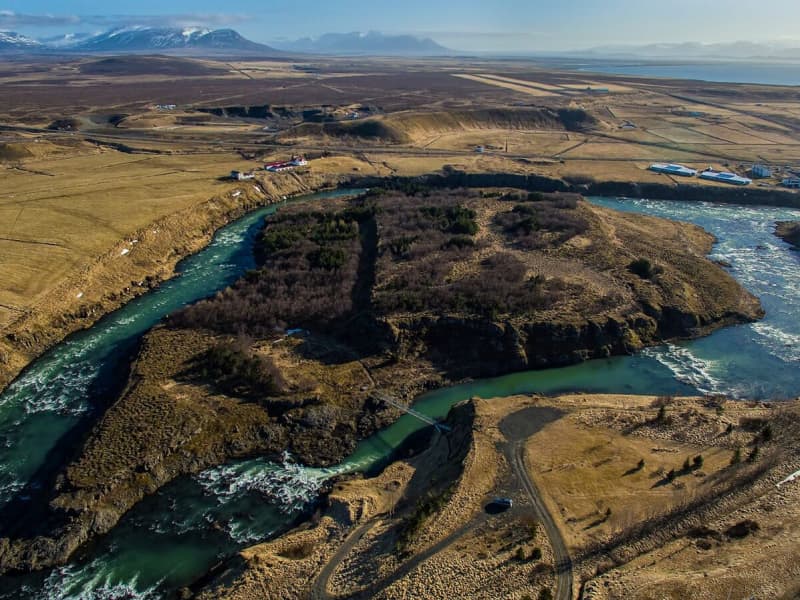 22.89 km
Hrútey Island is the real feather in the cap of Blönduós town, which is almost encircled by the river Blanda. Hrútey is blessed with a wide variety of vegetation and birdlife is abundant, being the habitat of geese and many other species. It is easily accessible and lies just off Highway 1.
There is a good parking area by the river bank and a trusty pedestrian bridge over to the island. Hrútey is an excellent place for outdoor exercise, or just to stop and take a break. There are good footpaths and a clearing with benches and picnic tables.
Nature
0.71 km
Spákonufellshöfði headland is popular among those interested in walking and other outdoor recreations, and is a short way from the harbour in Skagaströnd.
Marked footpaths have been laid out and signboards erected telling the visitor about the area's flora and fauna. On a bright, clear summer evening, one can witness the setting of the midnight sun as it dips to touch the horizon in the north. Indeed, the inhabitants of the area make use of the headland all year round and enjoy all that it has to offer.
Nature
6.16 km
Spákonufell is an impressive and dignified mountain towering above Skagaströnd and is looked upon as a kind of emblem of the village. It is frequented in all seasons by those who want to indulge in a variety of outdoor activities.
In summer, there is a choice of good walking and hiking trails, and many highly valued places of interest. And when winter lays an icy hold on the slopes, the townspeople change over to cross-country skiing - making their way round and, in some cases, up the mountain. Booklets about walks on and around Spákonufell and Spákonufellshöfði have been published in Icelandic, English and German, and these can be obtained in many places within the town itself, as well as in tourist information bureaux all over the north of Iceland. They also contain excellent photographs, detailed maps and other items of interest and information.
Others
The Blönduós Academic Center
Exhibitions
Árbraut 31
540 Blönduós
452-4030
Vatnsdæla on a tapestry
Exhibitions
Árbraut 31
540 Blönduós
898-4290
Womens Collage Exhibition
Exhibitions
Árbraut 31
540 Blönduós
893-4341, 452-4310
Others
Kaffi Bjarmanes
Restaurants
Bjarmanesi
545 Skagaströnd
867-6701
Húnabúð ehf.
Restaurants
Norðurlandsvegi 4
540 Blönduós
5510588
Teni - Ethiopian Restaurant
Restaurants
Húnabraut 2
540 Blönduós
6905379
Hotel Blanda
Hotels
Aðalgata 6
540 Blönduós
452-4205, 898-1832