Shortcuts
Breathtaking Nature
Breathtaking Nature
Day 1: The Mývatn area and Húsavík town
• The tumbling waterfall, Goðafoss (Waterfall of the Gods) and the Mývatn area with its rich bird life and evidences of volcanic activity, such as the crater Krafla, the Hverarönd geothermal area and boiling mudpits, Dimmuborgir lava formations and Skútustaðagígar pseudo craters. 
• Geothermal Spa and Nature Baths.
• Húsavík town offering whale watching, puffin sighting and horse-back riding.
Day 2: The towns of Kópasker and Þórshöfn and the surrounding district
• Melrakkaslétta plain which boasts abundant sea bird life and an arctic rugged coast. Hraunhafnartangi, the most northerly point of the Icelandic mainland, only 3 km south of the Arctic Circle. 
• Langanes and Skoruvíkurbjarg, home to the largest gannet colony in the north of Iceland. 
• The midnight sun in summer with a view towards the Arctic Circle, or, during dark winter days, the splendour of the northern lights.
Day 3: Vatnajökull National Park and the Highland
• The impressive Ásbyrgi canyon and Europe's most powerful waterfall, Dettifoss. 
• Mt. Herðubreið, often referred to as "The Queen of Icelandic Mountains", Askja caldera and Öskjuvatn, the deepest lake in Iceland. Also a chance to bathe in Víti (Hell), a geothermal tephra crater.
Day 4: Akureyri town and Eyjafjörður fjord
• A Botanical garden containing a diverse collection of Arctic flora, an 18 hole golf course, excellent restaurants, geothermal outdoor swimming pools, museums, hiking tracks to suit most ages and abilities and much, much more. 
Húsavík is the oldest settlement in Iceland, besides being the largest town in Þingeyjarsýsla district and the service centre for the surrounding area. The town is known for whale watching tours in Skjálfandi Bay and is often referred to as the Whale Capital of Iceland. Up to 23 species of whale, including the Blue Whale, as well as large colonies of puffins can be found in or around the bay. One can experience the gigantic life-size of whales in the local Whale Museum where, amongst others, a 22m long skeleton of a Blue Whale is on display. There are several whale watching companies to choose from in Húsavík and sailing from there in pursuit of these wonderful creatures is an experience no one should miss and will certainly never be forgotten.
Húsavík is linked with Eurovision. The film Eurovision Song Contest: The Story of Fire and Saga is based on two characters Lars Erickssong played by Will Ferrell and Sigrit Ericksdottir played by Rachel McAdams. Húsavík is the hometown of the duo and the title song is also named Húsavík. The song was nominated for an Oscar in 2021, with the locals actively promoting for the song to win it. They even painted a red carpet on the main street of Húsavík, ready to welcome the Oscar to this little town.

It's likely you will see some locals from the movie if you visit Húsavík. If you have limited time we recommend taking the Fire and Saga Tour. 
The Museum House at Húsavík, as the inhabitants of the district call their cultural centre, houses part of the South Þingeyjarsýsla District Museum, a maritime museum, natural history museum, folk museum, district archives, photograph archives, and an art gallery.
Cultural life in and around the town is flourishing, the active and enthusiastic drama society being among the best amateur theatre groups in Iceland. There are a number of choirs and instrumental groups playing an active role in the field of music.
Services in Húsavík are different types of accommodation, restaurants and cafés, a brewery, a geothermal swimming pool and campsites as well as a golf course and skiing area on the outskirts of town. A newly opened sea bath invites for a dip in geothermal hot sea water while enjoying a magnificent view over the bay. Húsavík is serviced by Húsavík airport. Húsavík is part of the Diamond Circle explore the Diamond Circle www.northiceland.is/diamondcircle 
Kópasker is a friendly village on the eastern shore of Öxarfjörður bay. A legal trading post was established here in 1880, and a village started slowly forming early in the 20th century. Its name derives from the skerry on which the breakwater was built and means seal pup skerry.
The local economy is mostly services to the surrounding agricultural region and tourism, but Kópasker´s largest employer is Fjallalamb meat processing plant. The village´s fishing industry consists of a few small boats.
Services in Kópasker include a grocery store with a restaurant, a state liquor store, car repair, a health clinic, a pharmacy, a bank, a gym, self-service gas station, guest houses, and a camping ground.
Among things to see and do around Kópasker are visits to the Snartarstaðir heritage museum with its unique collection of handicrafts and the Kópasker Earthquake Center which features information on an earthquake which struck the village in 1976 causing considerable damage. There are also some interesting walking trails around the village and very rich birdlife.
Each year, Kópasker celebrates the summer solstice in June with an extended weekend of various activities and happenings and visitors are welcomed.
Dimmuborgir or Dark Cities is an area of randomly strewn lava rocks and cliffs, surrounded by vegetation such as low bushes and plants. Dimmuborgir is a place of surprises with its myriad forms and images, small caves and towering volcanic rock, pierced by natural apertures.
The most famous of these formations is the cave "The Church", aptly named for its dome-like ceiling.
It is not only in summer that Dimmuborgir exerts its charm; a winter visit is also an invigorating experience which must include popping in to see the Yule Lads (Santas) who have settled there and made it their home.
Langanes is a veritable outdoor paradise teeming with birdlife, great for nature study and hiking.
Skoruvíkurbjarg, located mid-way out on its northern shore, is a great place to view and photograph sea birds such as auks. A viewing platform extending some 10m out from the cliff offers a close range view of a colony of the magnificent Northern Gannets on the sea stack Stórikarl. It´s Iceland's second largest Gannet colony, while nearby are colonies of auks, including guillemots and puffins in the bird-filled cliffs at Skoruvíkurbjarg.
The Gannet is the largest seabird in the North Atlantic and has earned the nickname Queen of the Atlantic.
Langanes peninsula is a treat for birdwatchers.
Akureyri is the little big city of Iceland. It is large enough to offer a rich selection of entertainment, art and culture, yet small enough to be very personal and close to nature. It's easy to be fascinated by Akureyri with it's with brightly painted wooden houses, cosy bars and steep streets leading down from the hills into the friendly city centre. Even the traffic lights are cute, with stop lights in the shape of red hearts. 
With a population of only 19,000, it's remarkably calm in comparison to Reykjavik.
You can easily explore all the major spots in town on foot. Here you'll find a wide range of activities and interesting places e.g. notable museums, the world's most northerly botanic garden, one of Iceland's most popular swimming facilities, 18-hole golf course, the best skiing area in the country and great hiking trails. Best of all, use of the city buses is completely free of charge.
Akureyri is also a great base camp for many of Iceland's most beautiful natural wonders, such as waterfalls, volcanic areas and canyons, as well as numerous exciting activities, such as rafting, hiking, caving, whale watching and horseback riding.
Mývatn offers a unique natural environment. With large contrasts and short distances, you can experience the most and the best that Iceland has to offer. Large open spaces with roads and walkways lead travellers to unworldly locations, where volcanic eruptions have played a crucial role in the formation of the landscape. Whether the plan is to enjoy the landscape, examine unique natural phenomena or take a closer look at the plant and birdlife, Mývatn has it all. Furthermore, the area offers a variety of services in accommodation, food, and entertainment, based on years of experience and knowledge. Mývatn attracts huge numbers of travellers in the summer, but many believe the lake and its surroundings to be no less impressive in the wintertime.
Mývatn is the 4th largest lake in Iceland, 37 km2 in area. Its shores are indented with many coves and inlets and its surface is dotted with around 50 small islets and skerries. Midges (Chironomidae) are abundant and the ubiquitous swarms of these tiny flies give the lake its name.
The lake itself is very shallow, and the rays of the sun reach the lakebed everywhere. The ecology of the lake area is extremely diverse and interesting; one important characteristic of Mývatn is the prolific growth and abundance of freshwater seaweed. On the bed of the lake there are great quantities of diatoms, while nearer the surface, Mývatn's famous arctic char weave their way between aquatic plants and little islets topped with fertile vegetation. 
On and around the lake there is a teeming and varied birdlife and Mývatn is the habitat of many kinds of lake and marsh birds. However, much of Mývatn's fame can be attributed to the fact that during summer, there is a greater variety of duck species gathered on and around the lake than anywhere else in the world. Mývatn is a legally protected conservation area and appears on the register of internationally important wetlands, along with the Laxá river which flows out of the lake. Lake Mývatn is part of the Diamond Circle explore the Diamond Circle www.northiceland.is/diamondcircle
The heart of Þórshöfn beats with the waves, and fishing and fish processing have been the town's main form of occupation throughout the years. Therefore, it is interesting to go for a walk, take a look at harbour life and activity. Fishing for ocean quahog (Arctica islandica) is one of the many things which set Þórshöfn apart from other villages.
Þórshöfn offers excellent services; a health centre, shop, restaurant, a sports stadium, swimming pool, savings bank, petrol station etc. There is also a camping site with facilities for camper vans.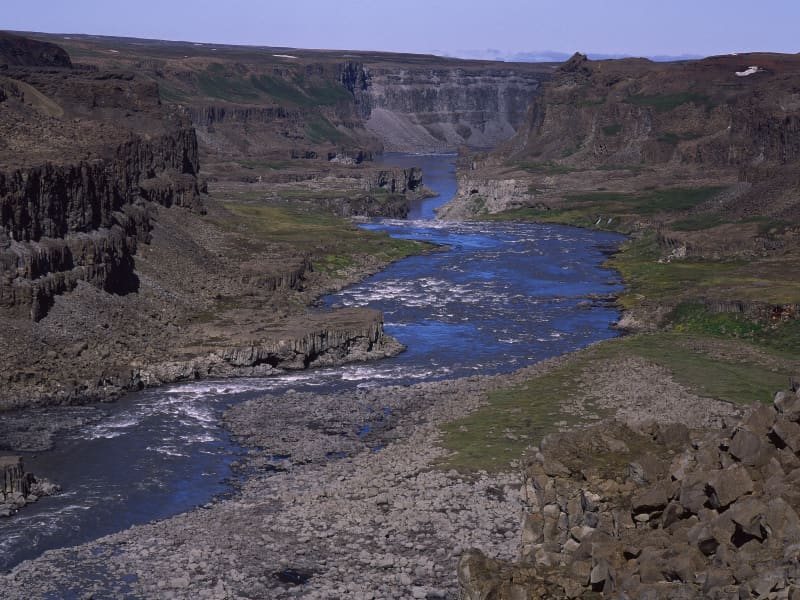 Vatnajökull National Park is vast in size and covers more than 13% of Iceland. Despite a large part of the national park being underneath the icecap of the glacier Vatnajökull its landscape is diverse, predominantly due to the interplay of volcanic activity and glaciers.
Jökulsárgljúfur is an area that takes its name from a canyon carved out by river Jökulsá á Fjöllum. Within this area is Ásbyrgi; surrounded by horseshoe-shaped cliffs and also the location of Ásbyrgi visitor centre and a large camp site. Also within Jökulsárgljúfur are waterfall Dettifoss and crater plugs Hljóðaklettar, both a must see for every visitor in the north.
Central volcano Askja and highland oasis Herðubreiðarlindir are further up in the highlands. To get there requires a 4x4 transport. They are best accessed by road 901 and then F905. Two small fords need to be crossed on this way. Alternative route is through road F88 but then two fords that need extreme caution need to be crossed.
More information about the National park is at the webpage: www.vatnajokullnationalpark.is
Mt. Herdubreid on the Oskjuleið Route is a 1682m high table mountain. It is the national mountain of Iceland and often called the "Queen of Icelandic mountains". There is a hiking trail to the top of the mountain, but due to loose rock it´s difficult and steep.
Ásbyrgi is one of the wonders of nature, a well forested horse-shoe shaped canyon in Oxarfjordur. Asbyrgi is a part of Jökulsárgljúfur canyon, within the Vatnajökull National Park. The Jökulsárgljúfur site of the National park reaches from highway 85, by Ásbyrgi south to Dettifoss, covering an area of 120 km2. Informative visitor's centre, shop, golf course and camping site are located by Ásbyrgi.
Many hiking tracks are in the vicinity of Ásbyrgi. Ásbyrgi canyon is part of the Diamond Circle explore the Diamond Circle https://www.northiceland.is/diamondcircle.
Askja is a 50 km2 caldera in the Dyngjufjoll mountains. The mountains emerged in eruptions under an Ice Age glacier cap. Askja itself was formed, for the most part, at the end of the Ice Age in a major ash eruption which caused the roof of the magma chamber at the heart of the central volcano to subside.
Askja is a part of Vatnajökull National Park.
The caldera contains several volcanoes, including Víti (explosive volcanic crater). Water has accumulated in the crater, its temperature is variable - it is around 30°C on average. Víti is a popular bathing site, but if you intend taking a dip, please be aware that the sloping path is very slippery in wet weather.
The road to Askja goes from road 1 to road 901 and onto mountain road F905. Onward to F910 to Drekagil. On this route there are two fords to cross, usually small. From Drekagil goes mountain road F894 (8 km) to the car park at Vikraborgir.
Another option is to go from road 1 to mountain road F88 via Herðubreiðarlindir to Drekagil. On this road ther are fords on the rivers Grafarlandsá and Lindá that need to be crossed. The fords can be difficult or even impassable for small jeeps.
Langanes is a narrow peninsula between Þistilfjordur and Bakkafloi shaped like a goose with a very large head. This area is about as wild as coastal Iceland gets, perfect for exploring off the beaten track. A rough road goes to the tip named Fontur. On the north and south of the tip there are steep sea cliffs, Skoruvikurbjarg and Skalavikurbjarg. The Langanes peninsula is know for its rich birdlife, and a very good birdwatching spots where it is possible to watch the Gannet and Brünnichs Guillermot from land.