Shortcuts
Grenivík Fishing Museum
Open from 1st of June to 31st of August, every day from 1 pm-5 pm.

The Fishing Museum is in the old baiting shed, called Hlíðarendi.
The shed was built in 1920. In the first year, the house was used as a shipyard, where Sigfús Þorsteinsson built his boat called Hermann. The boat is now owned by the museum. Mostly, the building was used as a baiting shed. The last decade in operation Hlíðarendi was mainly used as a repository for various types of fishing equipment.
The museum is open seven days a week from June 15 to 31.August at. 13:00 to 17:00. Groups can order subject at other times.
Get directions
Grenivík Fishing Museum
Sæland/Hlíðarendi
GPS Points
N65° 56' 48.530" W18° 11' 7.645"
Opening period
15/06 - 15/08
Travel directory for Grenivík Fishing Museum
The official travel index of Iceland
Swimming Pools
0.66 km
Summer opening hours (valid from June 1): Mondays - Fridays: 11:00 - 19:00 Weekends: 10:00 - 18:00 Winter opening hours: Mondays -Thursdays: 15:00-18:00 Saturdays: 10:00-13:00 Closed Fridays and Sunda
Winter adventure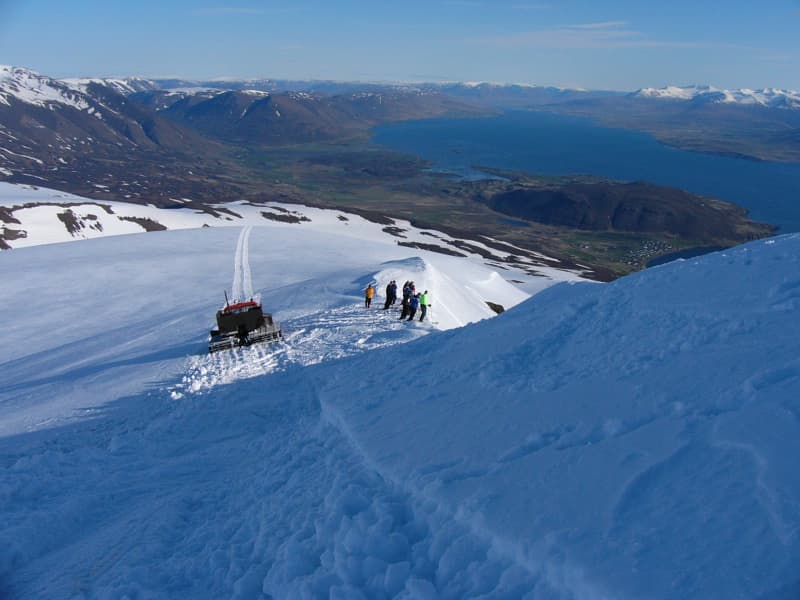 2.56 km
Kaldbakur Tours offers during the winter trips up the mountain Kaldbakur which is 1.173m high, making it the highest peak on the northeastern side of Eyjafjörður, with panoramic views all the way east to Langanes and into the highlands of Iceland.
Travel Agency
4.80 km
Since 1985 we are offering a variety of long and short riding tours. Curious young horses, mysterious cities of the Elves, a Viking treasure hidden in the ground, attractive valleys, rivers and a colourful world of wonders are waiting for the guest.
Others
Mathús Milli Fjöru & Fjalla
Culinary experience
Túngata 3
610 Grenivík
6206080
Nature
19.96 km
The peninsula between Eyjafjordur and Skjalfandi Bay is a paradise for hikers. Two 4WD tracks lead to the north of the peninsula, one to Hvalvatnsfjordur and the other to Flateyjardalur. No services, but camping allowed in specific areas.
Museums
9.48 km
Laufás is a renowned church site and chieftain's residence from the settlement (874-930). Laufás church was built in 1865, among its special items is a pulpit from 1698. The current farmhouse is a g
Hotels
22.54 km
Sveinbjargargerði is well located by highway one in the east part of Eyjafjörður with a beautiful view over the fjörður.
Hotels
23.51 km
Thorisstadir - Countryhotel is right by Road nr. 1 with a great view over Eyjafjörður. The location gives good option for day trips to places that have a lot to offer.
Museums
9.48 km
Laufás is a renowned church site and chieftain's residence from the settlement (874-930). Laufás church was built in 1865, among its special items is a pulpit from 1698. The current farmhouse is a g
Others
Mathús Milli Fjöru & Fjalla
Culinary experience
Túngata 3
610 Grenivík
6206080
Gamla Prestshúsið
Restaurants
Laufás
601 Akureyri
463-3196