Shortcuts
Narfastaðir Guesthouse
Welcome to guesthouse Narfastadir. guesthouse Narfastadir are at road nr. 1 in Reykjadalur valley 5 km. south of the small village Laugar and close to lake Myvatn and the whale watching capital Husavik. The main building is a former sheep-stable and a barn which have been converted into elegant and comfortable facilities for tourists and the old farmhouse are also a guesthouse and has been renewed for that purpose. The old house was build in 1907 (front house made of timber) and 1925 (back house made of cement).
banner2
During summer we offer our famous dinner buffet with variety of fish and meat dishes as well as vegetable and side dishes. Our breakfast buffet with homemade bread and variety of serials, slices of meat and cheese and juice stands with you during the day. During winter, evenings meals are served upon request.
banner1
While travelling, peaceful sleep are important and therefore we emphasis on good quality beds, cleanliness and tidiness. In rooms with private facilities, we offer TV with satellites channels and free Wi-Fi as well as access to an internet computer. A small bar and spacious sitting rooms can be cosy while having a cup of real coffee or tee which is free of charge and always available in the afternoon and evenings in the main building.
Get directions
Narfastaðir Guesthouse
Reykjadalur
GPS Points
N65° 40' 39.443" W17° 20' 55.730"
Service
Travel directory for Narfastaðir Guesthouse
The official travel index of Iceland
Others
North Aurora Guesthouse
Bed & Breakfast
Lautavegur 8
650 Laugar
860-2206
Safarihestar
Horse Activities
Álftagerði 3
660 Mývatn
464-4203 , 864-1121
Guesthouse Staðarhóll
Guesthouses
Staðarhóll, Aðaldalur
641 Húsavík
464-3707
KIP.is
Day Tours
Álfasteinn
650 Laugar
6505252
Guesthouse Stöng
Guesthouses
Mývatnssveit
660 Mývatn
464-4252, 896-6074
Nature
17.95 km
The Goðafoss waterfall is one of the most spectacular waterfalls in Iceland. The water of the river Skjálfandafljót falls from a height of 12 meters over a width of 30 meters.
In the year 1000, the Lawspeaker Þorgeir Ljósvetningagoði made Christianity the official religion of Iceland. After his conversion, Þorgeir threw his statues of the Norse gods into the waterfall. Goðafoss Waterfall is part of the Diamond Circle explore the Diamond Circle
https://www.northiceland.is/diamondcircle.
Nature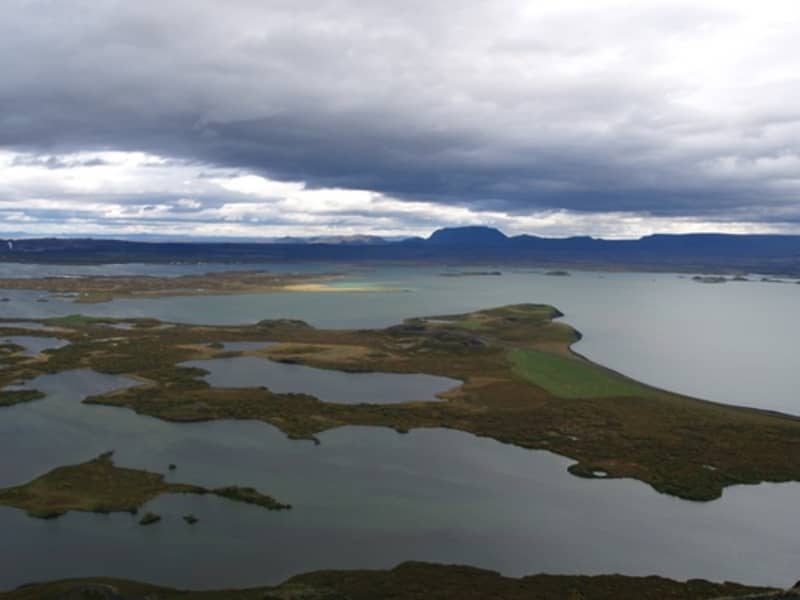 22.33 km
Skútustaðagígar pseudo craters were formed by gas explosions, when boiling lava flowed over the wetlands. The craters are a popular site for birdwatchers and are protected as a natural wetland conservation area.
National Parks
22.37 km
Lake Mývatn is a veritable paradise for birdwatchers and there is a highly diverse birdlife to be found both on the waters of the lake itself and on its shores. Many waders and marsh dwellers make their home there, but Mývatn is probably best known for its unique duck species composition. During the summer months there are more species of duck gathered in and around its waters than anywhere else on the planet. Mývatn and its wetlands are protected as a nature reserve (The Mývatn-Laxá Nature Conservation Area). It is registered as one of the internationally important wetlands, along with the Laxá river which flows out of the lake.
Bird Watching
24.03 km
In the Bird Museum you can find almost all of the Icelandic nesting birds, plus about 100 of the eggs, and in a seperate exhibiton, tools that were used to fish in Lake Mývatn.
Museums
22.29 km
Grenjaðarstaður is the site of a church, and also of one of the most famous turf farms in Iceland.
Others
Guesthouse Staðarhóll
Guesthouses
Staðarhóll, Aðaldalur
641 Húsavík
464-3707
Guesthouse Stöng
Guesthouses
Mývatnssveit
660 Mývatn
464-4252, 896-6074
Goðafossveitingar
Cafés
Fosshóll
601 Akureyri
464-3332
Skæutaís - Farm Ice Cream
Cafés
Skútustaðir 2b
660 Mývatn
-
Fossholl by Godafoss
Guesthouses
Fosshóll
641 Húsavík
464-3108