Shortcuts
Dalvík Camping Ground
The camp site is by the southern entrance into the town (when arriving from Akureyri). The camp site is next to the sports area, school and the swimming pool. Around is a lot to do for the children such as football, basketball court and a playground.
At the camp site there is hot and cold running water, showers and toilets. The service house has facilities to wash dishes and cook. There is also tables and chairs.
The camp site has toilets and showers for the disabled. It is possible to get access to a washing machine, tumble dryer and to dry shoes. There is also running water to fill the watertank of mobile homes and waste disposal.
The age limit is 18 years unless travelling with adult supervision. Our staff will come to the area and charge fees, you are welcome to camp in the area as soon as you arrive, even though an employee is not in the area. Please contact us at telephone (+354)6254775 to pay for your stay, if no one has contacted before you go.
Opening time:
15th of may - 15th of september.
Price 2020:
Fee for each units with two or more people in each unit is 2.500 ISK pr night
Fee for each units with one person in each unit is 1.700 ISK pr night
Electricity is 1.000 ISK pr unit.
Washing machine and tumble dryer: 1.000 ISK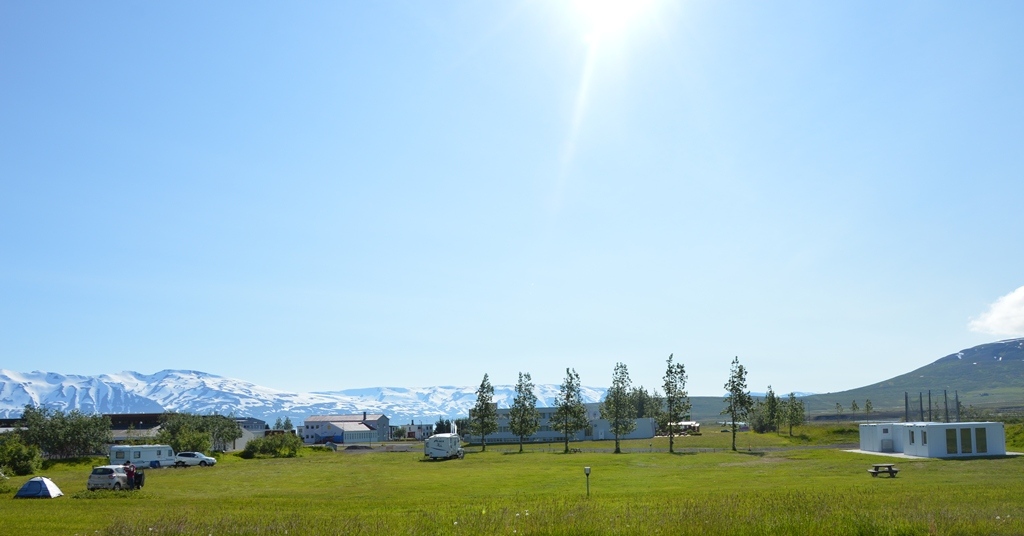 Get directions
Dalvík Camping Ground
Svarfaðarbraut
GPS Points
N65° 0' 0.000" W18° 0' 0.000"
Opening period
15/05 - 15/09
Service
Travel directory for Dalvík Camping Ground
The official travel index of Iceland
Others
Fjallabyggð Golf club
Golf Courses
Skeggjabrekka
625 Ólafsfjörður
466-2611
Ævar og Bóas
Day Tour Provider
Sandskeið 14
620 Dalvík
898-3345, 466-1597
Arctic See Angling and Hunting
Day Tour Provider
Böggvisbraut 6
620 Dalvík
663-8828
Jón Þór Benediktsson / The Traveling Viking
Hiking Tours - Hiking
Ytri Bakki
601 Akureyri
896-3569
Hamar Golf club
Golf Courses
Arnarholti Svarfaðardal
620 Dalvík
466-1204
Bruggsmiðjan
Exhibitions
Öldugata 22
621 Dalvík
861-3007
Kristján Eldjárn Hjartarson
Tour Operators
Tjörn
621 Dalvík
466-1855
VisitHrisey.is
Guesthouses
Norðurvegur 17
630 Hrísey
898-9408
History and Culture
18.22 km
Nature
20.61 km
Tröllaskagi is a rugged peninsula, which lies between Skagafjordur and Eyjafjordur. It´s a maze of mountains, rivers and number of miniature glaciers. Ideal hiking country, maps available.
Nature
9.74 km
Hrísey is Iceland's second largest island, the largest being Heimaey in the Westmann Islands. It is covered with vegetation, being, for the most part, flatland which only rises to 110 metres above sea level at its highest point. The bedrock is basalt, about 10 million years old. On the southernmost tip of the island is a small village where most of the islanders live. There is a relatively new swimming pool to tempt the visitor, and also the chance to do a spot of sightseeing from the trailer of a tractor, which is perhaps something one does not experience every day!
The crossing between Hrísey and Árskógssandur takes about 15 minutes one way, and the ferry, Sævar, runs several times a day.
Others
Dalvík Library & Svarfaðardalur Archive
Libraries & Archives
Berg Menningarhús
620 Dalvík
460-4931
Bruggsmiðjan
Exhibitions
Öldugata 22
621 Dalvík
861-3007
Listhus in Fjallabyggd - Artist in resident
Exhibitions
Ægisgata 10
625 Ólafsfjörður
Tjarnarborg Cultural House
Cultural Centres
Aðalgata 13
625 Ólafsfjörður
853-8020, 466-2188
Ólafsfjörður Nature Museum
Museums
Aðalgata 14
625 Ólafsfjörður
466-2651, 848-4071
Others
Olís - Service Station
Gas station
Skíðabraut 21
620 Dalvík
466-1832
Höllin
Restaurants
Hafnargata 16
625 Ólafsfjörður
466-4000, 663-6886
Tomman
Restaurants
Hafnarbraut 21
620 Dalvík
466-1559
Olís - Service Station
Gas station
Bylgjubyggð 2
625 Ólafsfjörður
466-2272
Syðri-Hagi
Farm Holidays
Syðri-Hagi, Árskógsströnd
621 Dalvík
849-8934 (eftir kl. 15), 866-7968, 841-9048
Gregors
Restaurants
Goðabraut 3
620 Dalvík
466-1213, 847-8846