Shortcuts
Kaldbaks-kot Cottages Husavik
Beautiful cottages with private facilities and fascinating view in Husavik (Myvatn) North Iceland, in the Whale watching Capital of Europe. Excellent location to explore the scenic "Diamond Ring Road": The Husavik-Dettifoss-Myvatn-Husavik round-trip journey. We offer the comfort of a motel-suite and the privacy of a cottage. We are located on the farmland of Kaldbakur within the Town of Husavik. A unique mixture of country comfort and urban live.
The houses have one or two bedrooms with one double bed and two single beds or a sleeping sofa, a private WC with a shower. The living room has a TV., radio and a kitchenette w/refrigerator, water basin, coffee machine, toaster, microwave oven and hot and cold water. The houses have electricity, geothermal heating and a big terrace. Two of them have sleeping loft, where up to 3 people can sleep. We do our best to keep the indoor air in our cottages free of fragrance, mold, chemicals, smoking and solvents so they can suit people who suffer from allergies, respiratory problems or chemical sensitivity. Enjoy the extra privacy that cottage gives you,over a regular hotel room.
Many activities are within easy reach from our cottages, including golfing, bird watching and free fishing (30 meters to the lake). A swimming pool and natural warm bath are nearby. You can also visit Husavik's museums and restaurants or take a refreshing walk around the lakes or up to the hills Of course, if you prefer, you can simply relax in our cozy cottages, or in our hot tubs and enjoy the beautiful view.......and plan the next trip.......to Iceland!
Please contact for prices and booking information.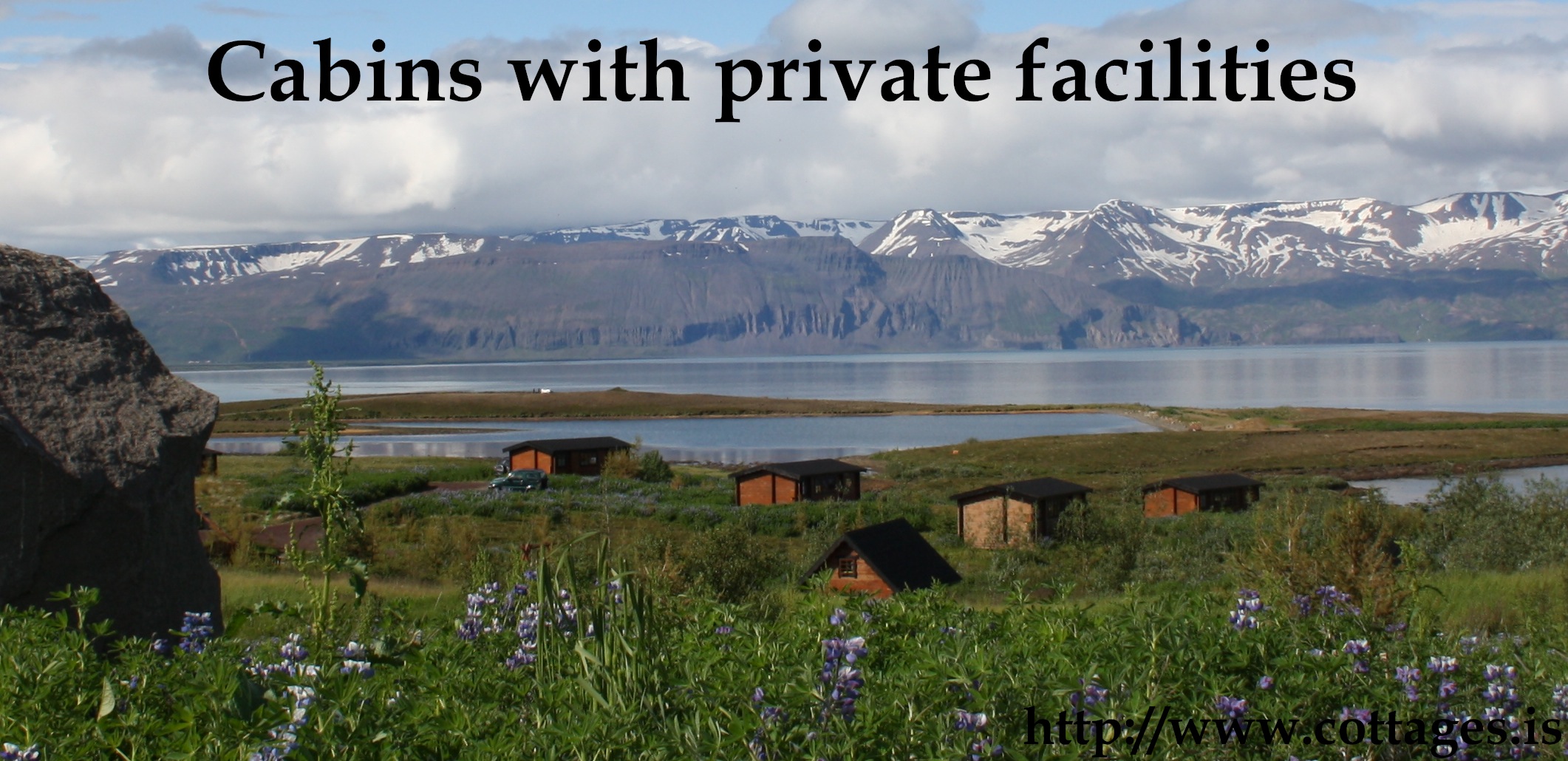 Get directions
Kaldbaks-kot Cottages Husavik
Kaldbakur
GPS Points
N66° 1' 27.523" W17° 21' 37.040"
Opening period
01/05 - 20/09
Service
Travel directory for Kaldbaks-kot Cottages Husavik
The official travel index of Iceland
Others
Oddur Örvar Magnússon / Icelandhunting
Day Tour Provider
Baughóll 31c
640 Húsavík
895-1776
Heiðarbær
Guesthouses
Reykjahverfi
641 Húsavík
464-3903
Húsavík Golf club
Golf Courses
Katlavellir
640 Húsavík
464-1000
Arctic Nature Experience
Hiking Tours - Hiking
Smiðjuteigur 7
641 Húsavík
464-3940, 464-3941
Hotel Rauðaskriða
Hotels
Rauðaskriða, Aðaldalur
641 Húsavík
895-6730
Husavik mini bus
Day Tours
Garðarsbraut 79
640 Húsavík
898-9853
Nature
22.37 km
Tjörnes is a stubby peninsula between Skjalfandi and Oxarfjord. Layers of fossil shells and lignite can be found on the coastal cliffs down from Ytri-Tunga farm on the western side of Tjornes. Colonies of puffins and other sea birds nest on the cliffs along the eastern coast.
History and Culture
2.53 km
On the main floor of the Culture House in Húsavík the new exhibition Man and Nature - 100 years in Þingeyjarsýsla, aims to provide insight into man´s relationship with nature in this region in the period 18250-1950, and the subsistence farming that was practised at that time, so that each farmstead was largely self-sufficient.
The maritime is on the Ground floor. It opened in 2002, in a new pyramidal unit. The exhibition includes a large number of boats, many of them built in Húsavík, as well as Hrafninn (the Raven), a gift from Norway to the community of Húsavík to mark the 1100th anniversary of the settlement of Iceland in 1974.
The exhibition also includes a wide variety of fishing gear, equipment and tools whcich were used in the fisheries, as well as in seal-hunting and shark-fishing. Films can be viewed.
History and Culture
2.93 km
Byggðasafn S-Þing (The South Þingeyjarsýsla District Museum) is housed within the Safnahúsið at Húsavík and is to be found on the middle floor of the building. This exhibition is called "100 years of Life and Nature in Þingeyjarsýsla" and attempts to shed light on the interaction of man and nature. It is, therefore partly a natural history exhibition.
Opening times:
Summer: 1 June-31 August, daily 10:00-18:00.
Winter: 1 September-31 May, weekdays 10:00-16:00.
Others
Húsavík Öl
Restaurants
Héðinsbraut 4
640 Húsavík
789-0808
Heiðarbær
Guesthouses
Reykjahverfi
641 Húsavík
464-3903
Olís - Service Station
Gas station
Garðarsbraut 64
640 Húsavík
464-1040
N1 - Service Station
Gas station
Héðinsbraut 2
640 Húsavík
464-2650
Pronto Pizzur
Restaurants
Ketilsbraut 22
640 Húsavík
464-2333
Hotel Rauðaskriða
Hotels
Rauðaskriða, Aðaldalur
641 Húsavík
895-6730
Skeljungur - Service Station
Cafés
Héðinsbraut 6
640 Húsavík
464-1260
Skarðaborg
Farm food direct
Skarðaborg
641 Húsavík
464-3955