Shortcuts
Hofsstaðir Hotel
We like to invite you to a very unique spot in the north of Iceland, offering excellent panorama view of Skagafjörður. The guesthouse, Sveitasetrið has 20 rooms with a private facilities and veranda. The restaurant highlights on home made Icelandic food and focuses on local products with the best ingredient that we can get from each season. The Guesthouse Sveitasetrið is located in Skagafjord by road nr. 76. Only 18 km from the main road no.1.
Here you can benefit from the peaceful countryside with all principal services and recreation of the area within your reach. Excellent walking facilities are in the vicinity and many places of interest are closed by. Stunning nature is at the tip of your finger where the river Héraðsvötn floats peacefully by, only a short distance away from the guesthouse. The area is rich in birdlife and ideal for bird watchers and other nature lovers. The mountain above Hofsstaðir and the scree in it are an ideal place for hikers and geologists and gives breathtaking view over Skagafjörður.
Hosts: Þórólfur Sigjónsson and Guðný Vésteinsdóttir
Get directions
Hofsstaðir Hotel
Skagafjörður
GPS Points
N65° 41' 58.520" W19° 22' 56.446"
Service
Travel directory for Hofsstaðir Hotel
The official travel index of Iceland
Others
Sauðárkrókur - Eagle Air
Domestic flights
Sauðárkróksflugvöllur
550 Sauðárkrókur
562-4200
Keldudalur
Sleeping bag accommodation
Hegranesi
551 Sauðárkrókur
453-6233
Hofsstaðir
Farm Holidays
Hofsstaðir
551 Sauðárkrókur
453-6555, 898-6665, 849-6655
Lynghorse
Day Tours
Lynghóll
551 Sauðárkrókur
868-7224
Réttarholt Farm
Tour Operators
Blönduhlíð
560 Varmahlíð
453-8201, 891-9161
Á Sturlungaslóð
Exhibitions
Frostastöðum
560 Varmahlíð
455 6161
History and Culture
24.86 km
Víðimýrarkirkja church is one of the few preserved turf churches in Iceland. At the beginning of the 20th century its fate was uncertain, but luckily the immense cultural value of the building was recognised in time, and the National Museum of Iceland became responsible for its renovation. The church was built in 1834 and has turf walls, but timber gables both back and front.
History and Culture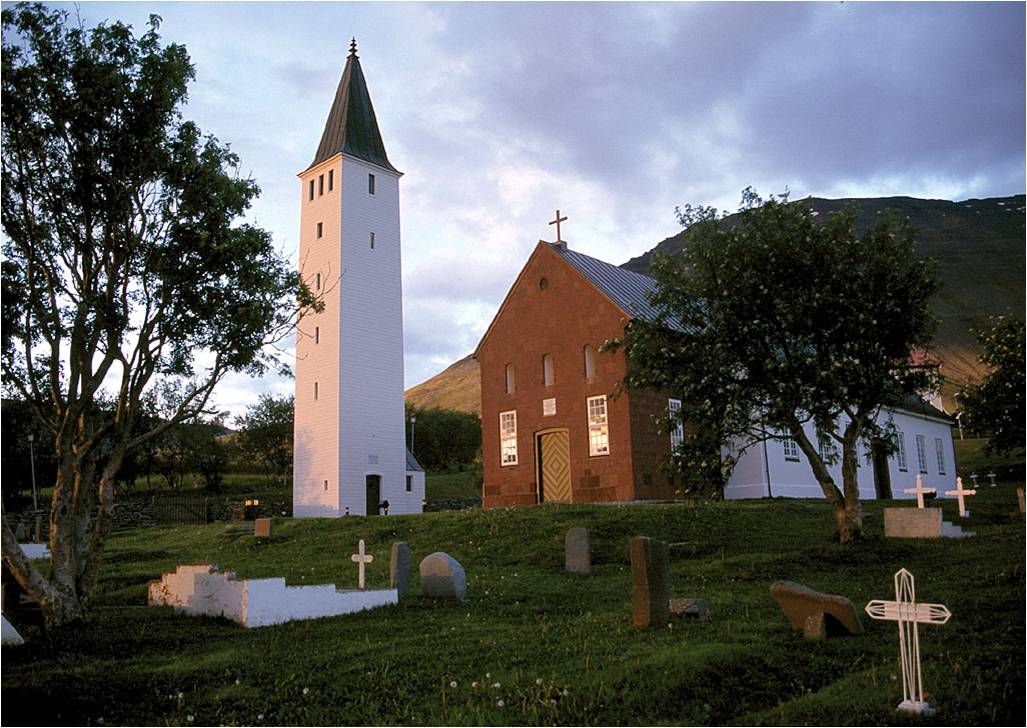 20.10 km
Hólar Cathedral is the oldest stone church in Iceland, constructed in 1763. The church is built with red sandstone from the mountain Hólabyrða. A number of historically important items are on display at the church.
The church tower is 27m long and stands beside the church. It was constructed on the 400-year anniversary of the death of the last Catholic Bishop of Iceland, Jón Arason.
Others
Hólar Church
Museums
Hólar í Hjaltadal
551 Sauðárkrókur
453-6300
Blacksmith´s Workshop
Exhibitions
Suðurgata 5
550 Sauðárkrókur
453-5389, 453-5020
Skagafjörður Archive
Libraries & Archives
Safnahúsið við Faxatorg
550 Sauðárkrókur
455-6075
Á Sturlungaslóð
Exhibitions
Frostastöðum
560 Varmahlíð
455 6161
Safnahúsið - Museum
Museums
Faxatorg
550 Sauðárkrókur
453-6640
Others
Blafell
Shopping
Skagfirðingabraut 29
550 Sauðárkrókur
453 6666, 860 2088
Sauðárkróksbakarí
Cafés
Aðalgata 5
550 Sauðárkrókur
455-5000
N1 - Service Station
Gas station
Ártorg 4
550 Sauðárkrókur
455-7070
KS Varmahlíð
Restaurants
Varmahlíð
560 Varmahlíð
455-4500