Shortcuts
Hotel Dalvík
Centrally located in the intimate fishing village of Dalvík, Hótel Dalvík is a cozy hotel in North Iceland offering beautiful views of the town and the mountains beyond.
The hotel is 3 minutes walk from the seaside. Hotel Dalvík is on the Eyjafjörður Fjord, 600 m from the geothermal swimming pool and 35 minutes' drive from Akureyri. It offers views of Tröllaskagi Mountain.
Hamar Golf Course is 4 km away.
Hotel Dalvík offers rooms with either private or shared bathroom facilities. All rooms have Wi-Fi access.
General facilities include a garden and a sun deck with picnic tables.
The lobby has a bar, a sitting corner and an internet computer.
Fjord cruises, whale watching boats and sea angling trips depart from Dalvík harbour, which is 250 m from the hotel. The ferry for Grimsey Island departs from there 6 days a week during summertime and 3 times a week during winter time, Popular activities in the area include horseback riding, snowmobiling and mountain skiing.
Get directions
Hotel Dalvík
Skíðabraut 18
GPS Points
N65° 58' 4.012" W18° 31' 55.614"
Service
Travel directory for Hotel Dalvík
The official travel index of Iceland
Others
Jón Þór Benediktsson / The Traveling Viking
Hiking Tours - Hiking
Ytri Bakki
601 Akureyri
896-3569
Bruggsmiðjan
Exhibitions
Öldugata 22
621 Dalvík
861-3007
Kristján Eldjárn Hjartarson
Tour Operators
Tjörn
621 Dalvík
466-1855
VisitHrisey.is
Guesthouses
Norðurvegur 17
630 Hrísey
898-9408
Arctic See Angling and Hunting
Day Tour Provider
Böggvisbraut 6
620 Dalvík
663-8828
Ævar og Bóas
Day Tour Provider
Sandskeið 14
620 Dalvík
898-3345, 466-1597
Fjallabyggð Golf club
Golf Courses
Skeggjabrekka
625 Ólafsfjörður
466-2611
Hamar Golf club
Golf Courses
Arnarholti Svarfaðardal
620 Dalvík
466-1204
History and Culture
17.90 km
Nature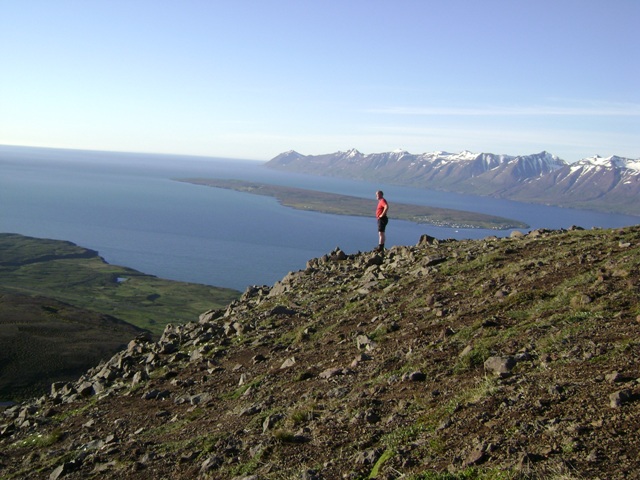 19.99 km
Tröllaskagi is a rugged peninsula, which lies between Skagafjordur and Eyjafjordur. It´s a maze of mountains, rivers and number of miniature glaciers. Ideal hiking country, maps available.
Others
Ólafsfjörður Nature Museum
Museums
Aðalgata 14
625 Ólafsfjörður
466-2651, 848-4071
Dalvík Library & Svarfaðardalur Archive
Libraries & Archives
Berg Menningarhús
620 Dalvík
460-4931
Listhus in Fjallabyggd - Artist in resident
Exhibitions
Ægisgata 10
625 Ólafsfjörður
Tjarnarborg Cultural House
Cultural Centres
Aðalgata 13
625 Ólafsfjörður
853-8020, 466-2188
Bruggsmiðjan
Exhibitions
Öldugata 22
621 Dalvík
861-3007
Others
Syðri-Hagi
Farm Holidays
Syðri-Hagi, Árskógsströnd
621 Dalvík
849-8934 (eftir kl. 15), 866-7968, 841-9048
Gregors
Restaurants
Goðabraut 3
620 Dalvík
466-1213, 847-8846
Tomman
Restaurants
Hafnarbraut 21
620 Dalvík
466-1559
Olís - Service Station
Gas station
Skíðabraut 21
620 Dalvík
466-1832
Höllin
Restaurants
Hafnargata 16
625 Ólafsfjörður
466-4000, 868-7788
Olís - Service Station
Gas station
Bylgjubyggð 2
625 Ólafsfjörður
466-2272