Shortcuts
Sigló Hotel
Siglo Hotel is built into the harbour in Siglufjordur. All the rooms have views over the beautiful surrounding mountains and marina and from the cosy window seat you can watch life go by in this quiet little haven in north Iceland. The hotel is open all year round and offers 61 classic rooms with relaxing window seats, 4 deluxe rooms with upgraded amenities and 3 suites with private balconies. Restaurant Sunna and the Lobby bar are located within the hotel. The other two restaurants that Siglo Hotel offers, Kaffi Raudka and Hannes Boy, are in walking distance. All guests have access to outdoor spas and sauna, located at the hotel as well. Relaxing room with a fireplace is located at the ground floor. At Siglo Hotel we strive to offer our guests a relaxing environment with a classic and romantic design.
Get directions
Sigló Hotel
Snorragata 3
GPS Points
N66° 8' 56.036" W18° 54' 41.508"
Travel directory for Sigló Hotel
The official travel index of Iceland
Others
Fjallabyggð Golf club
Golf Courses
Skeggjabrekka
625 Ólafsfjörður
466-2611
Siglufjörður Golf Club
Golf Courses
Íþróttamiðstöðin Hóll
580 Siglufjörður
846-2576 / 868-3396
Brunastadir
Cottages
Brúnastaðir, Fljót
570 Fljót
869-1024
History and Culture
0.54 km
The Herring Era Museum is Iceland's largest maritime and industrial museum, where visitors have the opportunity to get to know the herring fishery and processing industry that underpinned Iceland's economy for much of the twentieth century.
Three very different museum buildings provide visitors with an insight into the magnificent and captivating herring industry. The Róaldsbrakki is a Norwegian herring station dating back to 1907. Most of this building is as it was in the past, when herring girls lived in the building throughout the summer. Grána is an example of a small herring factory of the 1930s and visitors can see the workings of the reduction industry, which has long been seen as Iceland's first major industry. The Boathouse seeks to recreate a portion of a herring port, with the fleet alongside one evening in 1950 and allows visitors to mull over what it must have been like to walk the quaysides around the middle of the last century.
More information: www.sild.is/en
Opening hours:
May and September: 13 - 17
June, July, August: 10 - 18
Winter: By arrangement
Siglufjörður is only and hour drive from Akureyri!
Nature
7.32 km
Héðinsfjörður is nearly 6 km long deserted northernmost fjord on the Tröllaskagi area. In the fjord is a good lake to catch fish, Héðinsfjarðarvatn, and the outlet from the Héðinsfjarðarós into the fjord. The next settlement to the west is the town Siglufjörður and to the east is Ólafsfjörður.

Into the fjord lays beautiful valley, 5-6 km long. There is a large trout water, 1.7 square miles in size, that splendor the valley, 3 meters above sea level. There is a water trout and large seafish in water, about 1-5 lbs. The fish walks in the late summer.
A lot of wildlife is in the lake. The story says that the fox, who has visited some hunters unafraid and sought for a small fish. This water is not practiced much, yet it has their fans who seek peace and good fishing. Fishing hut is at the northern end of the lake.
Enough entertainment is on Tröllaskagi and nearest area, whether it is winter or summer, for example; skiing, snowmobile, sea angling, golfing, soccer, hiking, horseback riding, fishing, museums and much more.
History and Culture
16.65 km
Museums
16.65 km
Pálshús, one of the oldest houses in Ólafsfjörður, is today a museum and a cultural centre, located at Strandgata 4 in Ólafsfjörður. The oldest part of the house was built in 1892. The house i
Visitor Centres
0.52 km
We are a small family owned craft brewery located in fishing village of Siglufjörður, Iceland, my grandfather, my father and I, as well as the family helps out. The brewhouse is in an old fish facto
Museums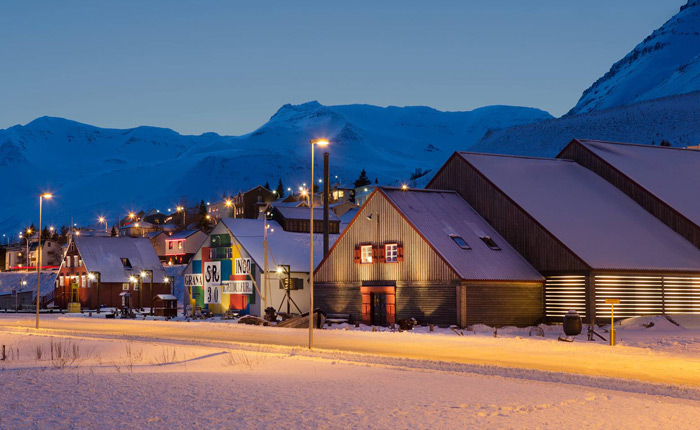 0.56 km
The Herring Era Museum is Iceland's largest maritime and industrial museum, where visitors have the opportunity to get to know the herring fishery and processing industry that underpinned Iceland's ec
Others
ÞjóðList - FolkArt
Exhibitions
Eyrargata 3
580 Siglufjörður
Listhus in Fjallabyggd - Artist in resident
Exhibitions
Ægisgata 10
625 Ólafsfjörður
Folk Music Center
Cultural Centres
Norðurgata 1
580 Siglufjörður
467-2300
Ólafsfjörður Nature Museum
Museums
Aðalgata 14
625 Ólafsfjörður
466-2651, 848-4071
Fjallabyggd Library and Regional Archive
Libraries & Archives
Gránugata 24, Ráðhúsið
580 Siglufjörður
464-9120
Herhusid - Artist in residence
Cultural Centres
Norðurgata 7b
580 Siglufjörður
Tjarnarborg Cultural House
Cultural Centres
Aðalgata 13
625 Ólafsfjörður
853-8020, 466-2188
Icelandic Poetry Center
Cultural Centres
Túngata 5
580 Siglufjörður
865-6543
Others
Harbour house Café
Restaurants
Gránugata 5b
580 Siglufjörður
659-4809
Olís - Service Station
Gas station
Bylgjubyggð 2
625 Ólafsfjörður
466-2272
Olís - Service Station
Gas station
Tjarnargata 6
580 Siglufjörður
467-1415
Höllin
Restaurants
Hafnargata 16
625 Ólafsfjörður
466-4000, 868-7788
Allinn Sportbar
Pubs & Clubs
Aðalgata 30
580 Siglufjörður
467-1111