Bakkaflöt Travel Service
Klara Jónsdóttir & Sigurður Friðriksson first opened the doors at Bakkaflöt in 1987. Since then Bakkaflöt has grown to become a well established activity and accommodation base in the heart of Skagafjörður.
1993 was the start of the river rafting operation. In the early days Bakkaflöt introduced 200 people to rafting here in Iceland. After almost 20 years Bakkaflöt now employs 6 professional raft guides and takes more than 3000 people for an adventure on both the East and the West Glacial River each year.
We offer river rafting on Austari og Vestari Jökulsá daily until September 18:
Austari Jökulsá at 09:00 og 15:00
Vestari Jökulsá at 09:30 og 13:00
Also "sit on top" Kayak tours on Svartá river at 20:00.
Travel service Bakkaflöt has a variety of accommodation to suit everyone. In 2011 we built 5 nice cabins with en suite facilities for those wanting their own privacy with a great view.
Bakkaflöt now proudly offers:
22 rooms in the main guesthouse
5 cabins
2 summerhouses
Campsite with kitchen and toilet facilities
Swimming pool and hot pools
Besides rafting we are more than happy to help you to arrange great activities for the whole family, including wipeout-course, horseback riding, paintball just to name a few. After the excitement our hot pools are waiting for you!
Bakkaflöt is also a perfect place for arranging a party! We can cater for any kind of occasion, such as family meetings, weddings and birthday parties. Our dining room can serve groups up 70-80 people.
Each year we look forward to welcoming our guests, both old and new visitors and helping to make your holiday perfect in every way we can. We hope this website provides you with all the necessary information needed. If you have any questions at all, please contact us at bakkaflot@bakkaflot.is or call us +354 453 8245 and we are happy to help you!
The campsite is usually open from May 1st - October 1st (Note that the opening hours of the campsite can change due to weather conditions.).
Get directions
Bakkaflöt Travel Service
Tungusveit
GPS Points
N65° 0' 0.000" W19° 0' 0.000"
Service
Categories
Travel Agency
,
Guesthouses
,
Sleeping bag accommodation
,
Cottages
,
Camping
,
River Rafting
,
Kayak Tours / Paddleboarding
,
Restaurants
,
Swimming Pools
,
Hiking Tours - Hiking
,
Winter adventure
,
Day Tours
,
Hunting
,
Paintball & Lasertag
,
Team Building and Incentive tours
,
Boat Tours
,
Northern Ligths Tour
,
Jeep- & Glacier Tours
,
Pubs & Clubs
Travel directory for Bakkaflöt Travel Service
The official travel index of Iceland
Others
Steinsstaðir Travel Service
Guesthouses
Lambeyri Steinstaðabyggð
560 Varmahlíð
899-8762, 453-8812
Saurbaer
Farm Holidays
Saurbær v / Vindheimamela
560 Varmahlíð
453-8012, 849-5654, 864-5337
Icelandic horseshows
Family & Fun Parks
Varmilækur
560 Varmahlíð
453-8021, 898-7756
Réttarholt Farm
Tour Operators
Blönduhlíð
560 Varmahlíð
453-8201, 891-9161
History and Culture
12.65 km
Víðimýrarkirkja church is one of the few preserved turf churches in Iceland. At the beginning of the 20th century its fate was uncertain, but luckily the immense cultural value of the building was recognised in time, and the National Museum of Iceland became responsible for its renovation. The church was built in 1834 and has turf walls, but timber gables both back and front.
History and Culture
20.50 km
Flugumýri is an ancient manor in Blönduhlíð, there the chieftan of Ásbirningar lived during the age of the Sturlings. Gizur Þorvaldsson, who later became the only Icelandic Earl, also lived there. In 1253 the enemies of Gizur tried to kill him by burning down his house during wedding feast of his son. Gizur escaped harm by hiding in a barrel of skyr (sour yoghurt) but all of his sons and his wife died.
More information at www.flugumyri.is
Others
Icelandic horseshows
Family & Fun Parks
Varmilækur
560 Varmahlíð
453-8021, 898-7756
Tourist Information Centres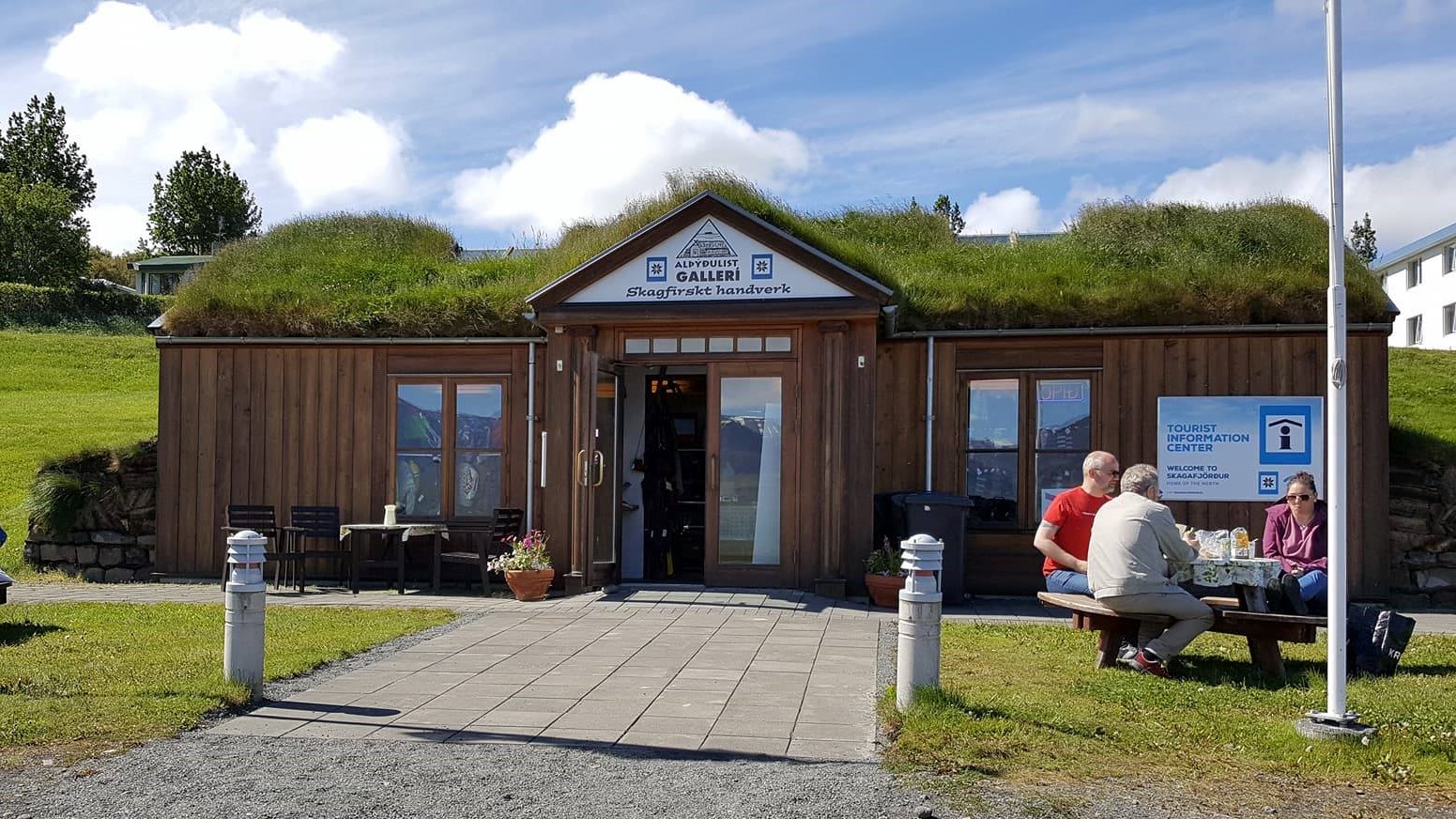 12.13 km
The Tourist Information Center for Northwest Iceland is located in the wooden house with the traditional turf roof in Varmahlíð, next to the local store. We offer a wide variety of brochures/booklet
Cafés
19.47 km
Should you be in the mood for something extra special drop in and try our traditional Icelandic delicacies
Hotels
12.13 km
Hótel Varmahlíð located by Route 1 in Varmahlíð, in the heart of Skagafjörður. It is a comfortable, small hotel, with 19 rooms.
Others
Steinsstaðir Travel Service
Guesthouses
Lambeyri Steinstaðabyggð
560 Varmahlíð
899-8762, 453-8812
KS Varmahlíð
Restaurants
Varmahlíð
560 Varmahlíð
455-4500
Stórhóll
Farm food direct
Stórhóll
560 Varmahlíð
891-9383