Dalvik HI Hostel
Three cottages, each 15 sqm. with a double bed and a sofa bed, basic kitchen facilities with double stove tops, refrigerator and most utilities and tools for simple cooking. WC but no shower, guests have free access to the Dalvík Swimming Pool which is only 250m away. Hot tub in the garden. Accommodation may be appropriate for 3 adults or a family with 2 to 3 children.
Located at the southern entrance of Dalvik, opposite Olís gas station.
The Old House is a 30 sqm, nearly 100 years old "cottage" with a history. It is newly renovated in the old original style and is a friendly and romantic place to stay in. Kitchen, bathroom with shower, living room with TV and a number of television channels, free wireless Internet. Sofa bed in the living room, mattresses on a sleeping loft . Hot tub in the garden. Sleeps max 4 adults and possibly more if there is a family with younger children.
Located at the southern entrance of Dalvik, opposite Olís gas station.
Gimli Hostel is a two-story house with 7 rooms, single room, a twin room, three triple rooms and one five and six bed rooms/dorms. Shared bathrooms/toilets with showers, a kitchen on both floors, lounge on the upper floor. Free wireless internet as well as computers in the living room. Elegant and beautifully decorated house which has been praised by visitors who have stayed there. Popular place for families and groups who rent the whole house for the winter holidays, the ski tournaments or around Easter and other festivals and holidays.
Located in the center of town on the main street at Hafnarbraut 4.
The Ski Hut Brekkusel: From April 15.th to the end of August we rent out accommodation in the "ski hut" Brekkusel which is an ideal choice for small family gatherings or hiking groups. Good kitchen and a large dining hall, accommodation in beds for 25 to 30 people in two small dormitory rooms and 4 bedrooms. This accommodation needs to be booked by email or by phone.
All types of accommodation are offered as a sleeping bag accommodation or with made-up beds, guests can also take with them their own linen and we provide duvets and pillows.
Dalvik is not a big town, distances between places are all within walking distance from the accommodation, grocery store, liquor store and dry cleaning, Grímsey island ferry, Dalvík Swimming Pool and Folk Museum, Berg Cultural House, Gregors Pub and the restaurant "Við Höfnina", not to mention the ski area which is only 800m from the center of town! In winter we are absolutely central in terms of skiing in the region, about 30 km to both Akureyri and Siglufjördur if guests want variety in their skiing.
Reservations can be made by visiting our websites or contact us by email at vegamot@vegamot.net. You can also call Heiða by phone 865 8391.
Get directions
Dalvik HI Hostel
Vegamót
GPS Points
N65° 58' 2.798" W18° 31' 49.858"
Travel directory for Dalvik HI Hostel
The official travel index of Iceland
Others
Bruggsmiðjan
Exhibitions
Öldugata 22
621 Dalvík
861-3007
Hamar Golf club
Golf Courses
Arnarholti Svarfaðardal
620 Dalvík
466-1204
Fjallabyggð Golf club
Golf Courses
Skeggjabrekka
625 Ólafsfjörður
466-2611
Kristján Eldjárn Hjartarson
Tour Operators
Tjörn
621 Dalvík
466-1855
Ævar og Bóas
Day Tour Provider
Sandskeið 14
620 Dalvík
898-3345, 466-1597
VisitHrisey.is
Guesthouses
Norðurvegur 17
630 Hrísey
898-9408
Arctic See Angling and Hunting
Day Tour Provider
Böggvisbraut 6
620 Dalvík
663-8828
Jón Þór Benediktsson / The Traveling Viking
Hiking Tours - Hiking
Ytri Bakki
601 Akureyri
896-3569
History and Culture
17.81 km
Nature
9.63 km
Hrísey is Iceland's second largest island, the largest being Heimaey in the Westmann Islands. It is covered with vegetation, being, for the most part, flatland which only rises to 110 metres above sea level at its highest point. The bedrock is basalt, about 10 million years old. On the southernmost tip of the island is a small village where most of the islanders live. There is a relatively new swimming pool to tempt the visitor, and also the chance to do a spot of sightseeing from the trailer of a tractor, which is perhaps something one does not experience every day!
The crossing between Hrísey and Árskógssandur takes about 15 minutes one way, and the ferry, Sævar, runs several times a day.
Nature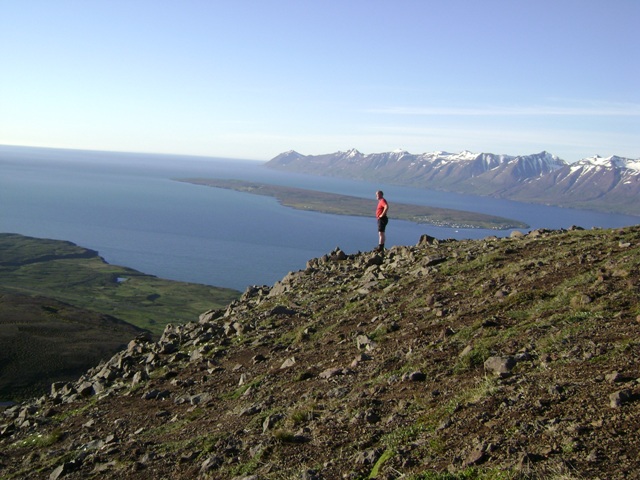 19.90 km
Tröllaskagi is a rugged peninsula, which lies between Skagafjordur and Eyjafjordur. It´s a maze of mountains, rivers and number of miniature glaciers. Ideal hiking country, maps available.
Others
Bruggsmiðjan
Exhibitions
Öldugata 22
621 Dalvík
861-3007
Listhus in Fjallabyggd - Artist in resident
Exhibitions
Ægisgata 10
625 Ólafsfjörður
Dalvík Library & Svarfaðardalur Archive
Libraries & Archives
Berg Menningarhús
620 Dalvík
460-4931
Ólafsfjörður Nature Museum
Museums
Aðalgata 14
625 Ólafsfjörður
466-2651, 848-4071
Tjarnarborg Cultural House
Cultural Centres
Aðalgata 13
625 Ólafsfjörður
853-8020, 466-2188
Others
Olís - Service Station
Gas station
Skíðabraut 21
620 Dalvík
466-1832
Syðri-Hagi
Farm Holidays
Syðri-Hagi, Árskógsströnd
621 Dalvík
849-8934 (eftir kl. 15), 866-7968, 841-9048
Höllin
Restaurants
Hafnargata 16
625 Ólafsfjörður
466-4000, 663-6886
Kaffi Lísa
Cafés
Hjalteyri
601 Akureyri
461-1049
Gregors
Restaurants
Goðabraut 3
620 Dalvík
466-1213, 847-8846
Olís - Service Station
Gas station
Bylgjubyggð 2
625 Ólafsfjörður
466-2272
Tomman
Restaurants
Hafnarbraut 21
620 Dalvík
466-1559