Glaðheimar Cottages and camping
Open all year round. Accommodation in 20 well equipped cottages for altogether 110 people. Hotpots and sauna in most of the cottages. Close to all services. Gladheimar also run the camping area in Blonduos witch is located just next the cottages. Close to all services. The information center in Blonduos is one of four information centers in Northwest Iceland.
Gladheimar - Picturesque cottages on the river bank Blönduós is a small, peaceful village midway between Reykjavik and Akureyri by the mouth of the river Blanda.
Gladheimar offers a variety of picturesque cottages that are all located within a few hundred meters of the River Blanda, with many set directly on the river bank itself. They are available in various different sizes, well equipped and fitted with high quality furnishing. All of our cottages have a small kitchen, refrigerator, TV and comfortable high quality furnishings. Most of them also have a natural geothermal hot tub. Gladheimar is also popular among campers and we also offer a well-equipped camping area.
● Enjoy the privacy
● Enjoy the silence
● Enjoy the service in the small village
● Enjoy the unspoiled nature
From the cottages it is only a few minute's walk to various local services and amenities, such as restaurants, the new geothermal swimming pool, a liquor store and a small supermarket.

There are many interesting places to visit in the Blönduós vicinity and our staff at the Glaðheimar service center are more than happy to help you to arrange sightseeing tours. We offer free private parking on site with no reservation needed.
Located immediately opposite the cottages within the middle of the river Blanda is a small, very beautiful island called Hrútsey. The island is a protected wildlife sanctuary but visitors are allowed access via the footbridge. The old town of Blönduós also provides an interesting walk, and you can walk along the mouth of the river to the beach - you might even see a seal head pop up! The golf course is within 3 miles and if you like to go fishing, hiking or horse riding then please contact us directly, as many options are available.
Glaðheimar - open all year!
Take a scenic drive and then enjoy the silence by relaxing in a geothermal hot tub. Lean back in the hot water on a bright summer night or a dark winter evening - you might even see the spectacular northern lights.
Get directions
Glaðheimar Cottages and camping
Brautarhvammur
GPS Points
N65° 39' 32.659" W20° 16' 34.878"
Service
Travel directory for Glaðheimar Cottages and camping
The official travel index of Iceland
Swimming Pools
23.34 km
Swimming Pools
0.50 km
Fully equipped sports center with a gym, swimming pool, two hot tubs, steam bath, wading pool, ice-bath and to large water slides along with lots of fun toys. Information about opening hours and entra
Others
Hunavellir Swimmingpool
Swimming Pools
Húnavellir
541 Blönduós
453-5600
Skagaströnd Golf Club
Golf Courses
Höfði
545 Skagaströnd
892-5089
Ós Golf Club
Golf Courses
Vatnahverfi
540 Blönduós
452-4980
GN Hópbíilar
Day Tour Provider
Skúlabraut 43
540 Blönduós
864-9133
Nature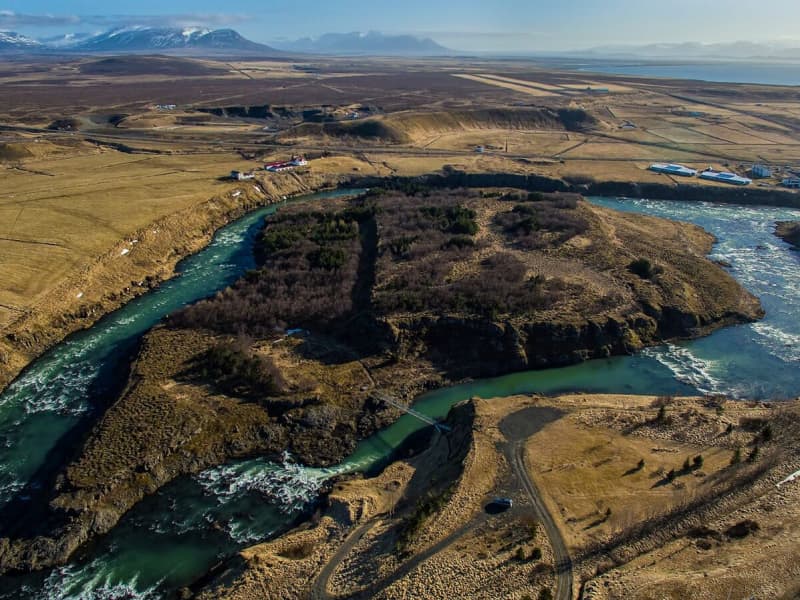 0.59 km
Hrútey Island is the real feather in the cap of Blönduós town, which is almost encircled by the river Blanda. Hrútey is blessed with a wide variety of vegetation and birdlife is abundant, being the habitat of geese and many other species. It is easily accessible and lies just off Highway 1.
There is a good parking area by the river bank and a trusty pedestrian bridge over to the island. Hrútey is an excellent place for outdoor exercise, or just to stop and take a break. There are good footpaths and a clearing with benches and picnic tables.
Nature
23.67 km
Spákonufellshöfði headland is popular among those interested in walking and other outdoor recreations, and is a short way from the harbour in Skagaströnd.
Marked footpaths have been laid out and signboards erected telling the visitor about the area's flora and fauna. On a bright, clear summer evening, one can witness the setting of the midnight sun as it dips to touch the horizon in the north. Indeed, the inhabitants of the area make use of the headland all year round and enjoy all that it has to offer.
Nature
19.49 km
Vatnsdalshólar are a cluster of hills of all sizes across the mouth of Vatnsdalur valley. Thought to have been formed by a catastrophic landslide. These hills are considered to be one of the three "innumerables" things in Iceland along with the lakes in Arnarvatnsheidi and the islands on Breidarfjord in the west.
Others
Womens Collage Exhibition
Exhibitions
Árbraut 31
540 Blönduós
893-4341, 452-4310
The Blönduós Academic Center
Exhibitions
Árbraut 31
540 Blönduós
452-4030
Vatnsdæla on a tapestry
Exhibitions
Árbraut 31
540 Blönduós
898-4290
Others
Teni - Ethiopian Restaurant
Restaurants
Húnabraut 2
540 Blönduós
6905379
Kaffi Bjarmanes
Restaurants
Bjarmanesi
545 Skagaströnd
867-6701
Húnabúð ehf.
Restaurants
Norðurlandsvegi 4
540 Blönduós
5510588
Hotel Blanda
Hotels
Aðalgata 6
540 Blönduós
452-4205, 898-1832