Hotel Dalvík
Centrally located in the intimate fishing village of Dalvík, Hótel Dalvík is a cozy hotel in North Iceland offering beautiful views of the town and the mountains beyond.
The hotel is 3 minutes walk from the seaside. Hotel Dalvík is on the Eyjafjörður Fjord, 600 m from the geothermal swimming pool and 35 minutes' drive from Akureyri. It offers views of Tröllaskagi Mountain.
Hamar Golf Course is 4 km away.
Hotel Dalvík offers rooms with either private or shared bathroom facilities. All rooms have Wi-Fi access.
General facilities include a garden and a sun deck with picnic tables.
The lobby has a bar, a sitting corner and an internet computer.
Fjord cruises, whale watching boats and sea angling trips depart from Dalvík harbour, which is 250 m from the hotel. The ferry for Grimsey Island departs from there 6 days a week during summertime and 3 times a week during winter time, Popular activities in the area include horseback riding, snowmobiling and mountain skiing.
Get directions
Hotel Dalvík
Skíðabraut 18
GPS Points
N65° 58' 4.012" W18° 31' 55.614"
Service
Travel directory for Hotel Dalvík
The official travel index of Iceland
Others
Hamar Golf club
Golf Courses
Arnarholti Svarfaðardal
620 Dalvík
466-1204
Kristján Eldjárn Hjartarson
Tour Operators
Tjörn
621 Dalvík
466-1855
VisitHrisey.is
Guesthouses
Norðurvegur 17
630 Hrísey
898-9408
Fjallabyggð Golf club
Golf Courses
Skeggjabrekka
625 Ólafsfjörður
466-2611
Jón Þór Benediktsson / The Traveling Viking
Hiking Tours - Hiking
Ytri Bakki
601 Akureyri
896-3569
Arctic See Angling and Hunting
Day Tour Provider
Böggvisbraut 6
620 Dalvík
663-8828
Ævar og Bóas
Day Tour Provider
Sandskeið 14
620 Dalvík
898-3345, 466-1597
Bruggsmiðjan
Exhibitions
Öldugata 22
621 Dalvík
861-3007
Nature
9.72 km
Hrísey is Iceland's second largest island, the largest being Heimaey in the Westmann Islands. It is covered with vegetation, being, for the most part, flatland which only rises to 110 metres above sea level at its highest point. The bedrock is basalt, about 10 million years old. On the southernmost tip of the island is a small village where most of the islanders live. There is a relatively new swimming pool to tempt the visitor, and also the chance to do a spot of sightseeing from the trailer of a tractor, which is perhaps something one does not experience every day!
The crossing between Hrísey and Árskógssandur takes about 15 minutes one way, and the ferry, Sævar, runs several times a day.
Nature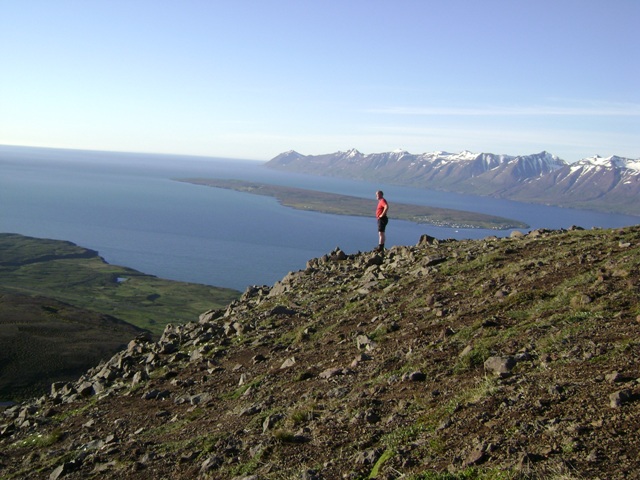 19.99 km
Tröllaskagi is a rugged peninsula, which lies between Skagafjordur and Eyjafjordur. It´s a maze of mountains, rivers and number of miniature glaciers. Ideal hiking country, maps available.
History and Culture
17.90 km
Others
Listhus in Fjallabyggd - Artist in resident
Exhibitions
Ægisgata 10
625 Ólafsfjörður
Ólafsfjörður Nature Museum
Museums
Aðalgata 14
625 Ólafsfjörður
466-2651, 848-4071
Dalvík Library & Svarfaðardalur Archive
Libraries & Archives
Berg Menningarhús
620 Dalvík
460-4931
Tjarnarborg Cultural House
Cultural Centres
Aðalgata 13
625 Ólafsfjörður
853-8020, 466-2188
Bruggsmiðjan
Exhibitions
Öldugata 22
621 Dalvík
861-3007
Others
Syðri-Hagi
Farm Holidays
Syðri-Hagi, Árskógsströnd
621 Dalvík
849-8934 (eftir kl. 15), 866-7968, 841-9048
Olís - Service Station
Gas station
Skíðabraut 21
620 Dalvík
466-1832
Kaffi Lísa
Cafés
Hjalteyri
601 Akureyri
461-1049
Tomman
Restaurants
Hafnarbraut 21
620 Dalvík
466-1559
Gregors
Restaurants
Goðabraut 3
620 Dalvík
466-1213, 847-8846
Olís - Service Station
Gas station
Bylgjubyggð 2
625 Ólafsfjörður
466-2272
Höllin
Restaurants
Hafnargata 16
625 Ólafsfjörður
466-4000, 663-6886