Skagafjörður Transportation Museum
The Vintage Auto Museum at Stóragerði in Skagafjörður formally opened in 2004. The museum has on exhibition around 100 vehicles; cars, buses, motorcycles, snowmobiles, agricultural machinery, and a lot of small knickknacks tied to the Icelandic transportation heritage. At least 250-300 vehicles and machinery in various condition are on dispay outside the museum, which intrigues the museum's guests.

The museum was built by Gunnar Kr. Þórðarson and his wife, Sólveig Jónasdóttir. Gunnar had masters in Auto Mechanic and Sólveig is a primary school teacher. Gunnar always carried a passion for the transportation heritage and collected from a young age a large proportion of the showpieces. Gunnar also, througout the years, remodeled both vehicles and machinery with great success. But to ensure the best possible preservation of the showpieces of various sizes he had collected throughout the years, a warehouse had to be built, resulting in the opening of this magnificent museum for all to enjoy!

It is worth mentioning that aftert he museum opened, a few of the guests have donated both cars and machines to the museum in near to impeccable condition, and generous gifts like that are completely priceless. Gunnar's brothers, Sigurmon Þórðarson from Hofsós and Páll Hólm Þórðarson from Kópavogur have throughout the years been very helpful with the remodeling of various objects and in collecting showpieces across the country.

The official opening of the museum is during the summer months from June 1st through September 30th. Opening hours are daily from 11 am to 6 pm. Groups are welcomed by appointment during winter.
Get directions
Skagafjörður Transportation Museum
Stóra Gerði
GPS Points
N65° 48' 28.134" W19° 18' 31.558"
Travel directory for Skagafjörður Transportation Museum
The official travel index of Iceland
Others
Hofsstaðir
Farm Holidays
Hofsstaðir
551 Sauðárkrókur
453-6555, 898-6665, 849-6655
Sauðárkrókur - Eagle Air
Domestic flights
Sauðárkróksflugvöllur
550 Sauðárkrókur
562-4200
Á Sturlungaslóð
Exhibitions
Frostastöðum
560 Varmahlíð
455 6161
Lynghorse
Day Tours
Lynghóll
551 Sauðárkrókur
868-7224
History and Culture
14.81 km
Hólar is one of the most famous historical sites in Iceland and was, for many centuries, an Episcopal See. It was also the capital of North Iceland for over 700 years. There has been a church on the site from the 11th century, and the present Hólar Cathedral was consecrated in 1763. It is the oldest stone built church in Iceland.
Hólaskóli School, founded in 1882, was an agricultural school, but there is evidence that some form of school has been present at Hólar right from the time of the first bishopric. Archaeological research has been carried out at Hólar over the past years and more than 40 thousand items found, some of which are now on display in the old schoolhouse.
History and Culture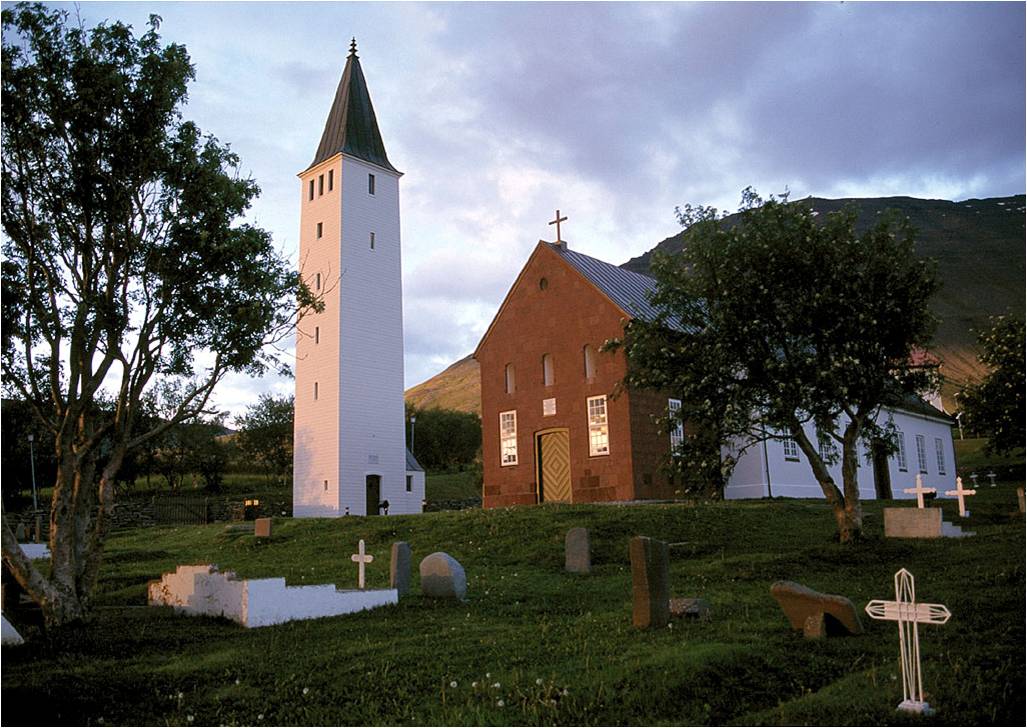 14.77 km
Hólar Cathedral is the oldest stone church in Iceland, constructed in 1763. The church is built with red sandstone from the mountain Hólabyrða. A number of historically important items are on display at the church.
The church tower is 27m long and stands beside the church. It was constructed on the 400-year anniversary of the death of the last Catholic Bishop of Iceland, Jón Arason.
Others
Skagafjörður Archive
Libraries & Archives
Safnahúsið við Faxatorg
550 Sauðárkrókur
455-6075
Hólar Church
Museums
Hólar í Hjaltadal
551 Sauðárkrókur
453-6300
Blacksmith´s Workshop
Exhibitions
Suðurgata 5
550 Sauðárkrókur
453-5389, 453-5020
Á Sturlungaslóð
Exhibitions
Frostastöðum
560 Varmahlíð
455 6161
Safnahúsið - Museum
Museums
Faxatorg
550 Sauðárkrókur
453-6640
The Old Warehouse
Museums
565 Hofsós
530-2200, 453-7935
Others
Veitingastofan Sólvík
Restaurants
Sólvík
565 Hofsós
861-3463, 453-7930
Blafell
Shopping
Skagfirðingabraut 29
550 Sauðárkrókur
453 6666, 860 2088
N1 - Service Station
Gas station
Ártorg 4
550 Sauðárkrókur
455-7070
Sauðárkróksbakarí
Cafés
Aðalgata 5
550 Sauðárkrókur
455-5000