Original North
Original North - Camp Boutique - is a small family business. The owner of the company was raised on the farm Vað in Þingeyjarsveit, next to the camp. We offer our guests two different options of accommodation, to rent a luxury tent or to rent a house. We have two different sizes of luxury tents, a deluxe double room (25 m²) for two and a deluxe family room for four (45 m²). The tents are very well equipped, with a heating system. Glamping at Original North is a unique way to experience Icelandic nature. We focus on making our guests feel welcome in a friendly and relaxing atmosphere created by the host family
The house has four bedrooms, accommodation for eight people. It is a renovated charming farmhouse. Our property is located 27 km away from Húsavík town and Akureyri is about 50 km away.



OPENING PERIOD
Tents: June - September
House: All year
Get directions
Original North
Vað
GPS Points
N65° 47' 59.284" W17° 30' 7.315"
Travel directory for Original North
The official travel index of Iceland
Swimming Pools
19.94 km
Others
Hotel Rauðaskriða
Hotels
Rauðaskriða, Aðaldalur
641 Húsavík
895-6730
Kolbeinn Kjartansson
Horse Activities
Hraunkot
641 Húsavík
864-6471
History and Culture
22.58 km
Grenjaðarstaður is the site of a church, and also of one of the most famous turf farms in Iceland. It was home to the chieftains of the past, and it is an enlightening experience to visit the farm and become acquainted with the lives of Iceland's rich and famous in days gone by.
Nature
18.69 km
The Goðafoss waterfall is one of the most spectacular waterfalls in Iceland. The water of the river Skjálfandafljót falls from a height of 12 meters over a width of 30 meters.
In the year 1000, the Lawspeaker Þorgeir Ljósvetningagoði made Christianity the official religion of Iceland. After his conversion, Þorgeir threw his statues of the Norse gods into the waterfall. Goðafoss Waterfall is part of the Diamond Circle explore the Diamond Circle
https://www.northiceland.is/diamondcircle.
Museums
5.02 km
The transportation museum at Ystafell was established by Ingólfur Kristjánsson and Kristbjörg Jónsdóttir in 1998. The museum is the oldest of its kind in Iceland. Its main role is to preserve and
Cafés
18.75 km
Guesthouses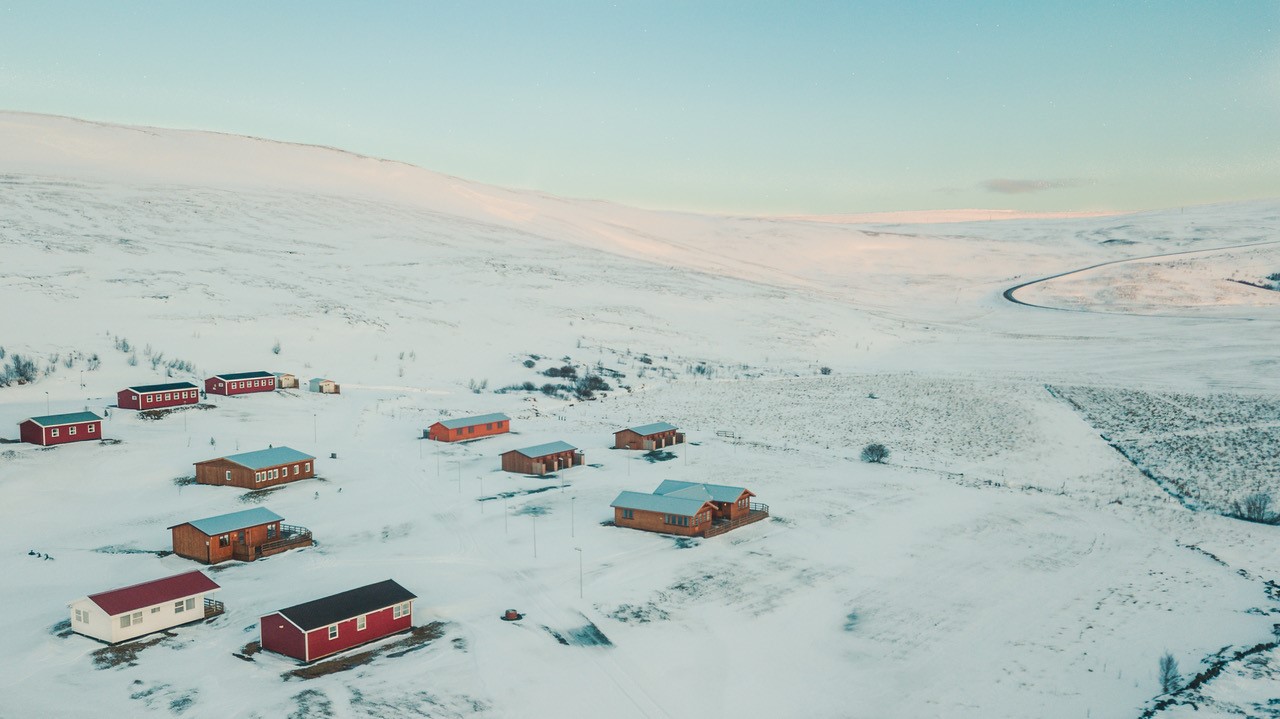 23.80 km
Guesthouse Brekka is a family run accommodation in Aðaldalur. - It is beautifully and very centrally located for those who want to explore the North Iceland Pearls of Nature, enjoy peaceful surroundi
Others
Fossholl by Godafoss
Guesthouses
Fosshóll
641 Húsavík
464-3108
Hotel Rauðaskriða
Hotels
Rauðaskriða, Aðaldalur
641 Húsavík
895-6730